Create an atmosphere that's full of depth, warmth, and character with a wooden bathroom design. The natural appeal and unique pattern of wood means it can be used across different schemes, from ultra-modern to period-style traditional.
Check out our top tips on how to get the look in your bathroom using wooden bathroom furniture and accessories, along with creative ways to incorporate wood across your layout.
Tones and textures
The type of wood you choose will dictate the mood in your bathroom. There are endless varieties available, from pale, beachy tones to rich, hearty shades. You can mix and match for a quirky effect or stick to one shade for a more cohesive look.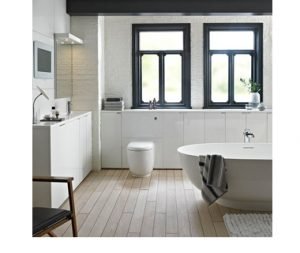 Light wood for a breezy space
Give your bathroom a Scandi makeover and transform it into a space that's both modern and cosy. For a fresh and airy bathroom, choose light shades of wood such as oak or beech. Ideal for conjuring the illusion of space in a smaller room, pale tones will still bring warmth and texture without overwhelming your layout.
Dark wood for a luxurious atmosphere
Dark wooden tones (like walnut) offer a sense of warmth while giving an air of luxury. A great choice if you want a bathroom that feels exclusive and mature, consider styling walnut furniture against creamy walls and flooring to balance dark with light. Alternatively, use both dark furniture and flooring to create a cosy retreat.
Classic ways to incorporate wood in your bathroom design
Wood looks natural across a variety of places in your bathroom, and so it's easy to incorporate it into your scheme. Style it across your entire washroom for a country cottage effect or integrate it in a few key places to add subtle character.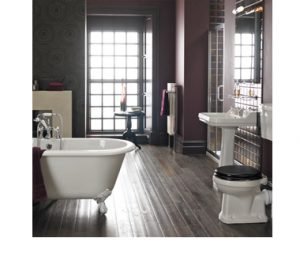 Wood flooring
Wood flooring is a classic choice that can work in almost every room in your home. While real wood might not be the best choice for the bathroom as it might get warped by the moisture, you can still get the look with laminate flooring or luxury vinyl.
Both styles recreate a wooden effect using high quality imaging, so it looks entirely natural while acting as a safe and lasting flooring solution. And there are plenty of different tones and textures t choose from.
Wood bathroom furniture
Wood furniture has a wholesome appeal and will instantly add an edge of luxury. Traditional wooden bathroom furniture uses shaker-style details and elegant curves to create a vintage effect. If you want a modern look, choose wooden pieces that have clean lines and minimalist detailing, such as wall-hung units and cabinets.
Unexpected ways to incorporate wood into your bathroom
It's easy to incorporate wood across your furniture and floors, but it can also be used in unexpected places to contribute to your chosen theme. When designing your bathroom, get creative and look for ways you can bring something different to your scheme.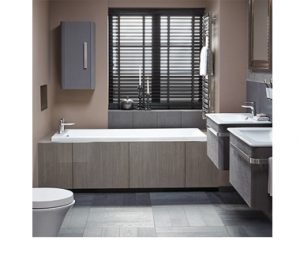 Wooden bath panels
Create the ultimate cosy environment in your bathroom with wood bath panels. Dark tones like walnut and Nebraska oak will create a sleek finish, reminiscent of a luxury chalet. Alternatively, a lighter tone (like new oak) is bright and welcoming, great for a Scandi or shabby-chic bathroom.
Wood accessories
Using wooden accessories across your bathroom is a simple and easy way to inject a bit of rustic charm. The Hudson Lomborg ladder is irresistibly cool, great for adding storage and an artsy twist. Wooden accessories, like the bamboo ceramic collection of coordinated essentials, are stylish and practical.
Complementary colours and textures
While you can use wood effectively across most of your bathroom, it's unlikely you'll want the entire floor to ceiling to be covered in it! When deciding on complementary aspects for your wooden theme, opt for natural tones and textures.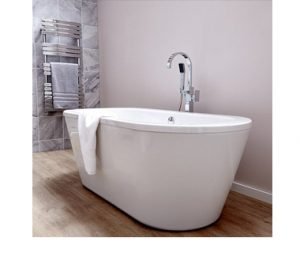 Marble, stone, and brick
Natural materials complement each other, and marble, stone, and brick can transition effortlessly into your wooden bathroom scheme. Make sure to choose variations that tie in with the qualities of your wooden features – for example, if you have dark wooden furniture, choose marble that has flecks of deep brown in it.
Nature-inspired colours
Wood looks especially good when contrasted against nature-inspired colours. Pastel tones of blue and green look great in a traditional bathroom, while neutral colours like red-brown or sandy-beige can add a hint of hotel-style luxury to your scheme.
Guaranteed to add warmth, texture, and style, there are plenty of ways you can incorporate wood to create your dream bathroom design. Choose dark tones for a luxury look, or opt for Scandinavian-inspired cool with pale, airy shades. Check out our design guides for more bathroom ideas or find your nearest showroom to explore the options up close.