Edwardians were rather partial to their bathrooms, treating them with the same respect as the living and dining room! 
The Edwardian era took place from 1901-1920, when King Edward VII held the throne and for the 10 years following his death. During this time, flushable toilets and electricity became widely available in many houses, and these new innovations meant that bathrooms became a key focus in the home.
Edwardian bathroom décor draws a lot of its influence from Victorian design, but it is notably more stripped back. Edwardians embraced simplistic styling – dark wood and heavy furniture from the Victorian period were given a modern update, with lighter, less bulky designs taking their place.
Explore our bathroom design ideas to learn how to inject some Edwardian elegance into your space.
Invest in grand designs
The Edwardians were big fans of opulent bathroom fixtures and fittings. Tall designs offered comfort as well as a sense of grandeur – qualities that were of the utmost importance in the era. These grand pieces of furniture were crafted from premium materials such as porcelain and ceramic, to guarantee strength and durability.
High-rise toilet
To create an instant Edwardian look, choose a high-rise toilet. Tall toilets were a key feature in Edwardian bathrooms, transformed from a practical necessity into a stylish focal point. The newly introduced flushable toilets featured ornate levers and high-level cisterns – pay homage to the Edwardian's distinctive toilet designs by incorporating an exposed pipe flush system.
Slipper baths
Slipper baths were first introduced in the Victorian period but rose in popularity during the Edwardian era. They were admired for their compact shape and luxurious aesthetic. Featuring one sloped-end that's deeper than the other, the design is meant to offer extra back support while bathing.
Embrace Edwardian colours and patterns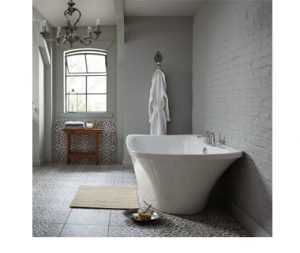 Thanks to the arrival of electricity, the Edwardians no longer had to conceal soot marks left from gas lanterns, which meant they could be more flexible with their colour schemes. For this reason, light and airy bathrooms became popular.
Light colours
The Edwardians strove to create large, open spaces in light colours. Embrace neutral shades to conjure up a look that's reflective of the era. Think creams, light greens, and pale oatmeal shades.
Intricate patterns
Intricate patterns were a key feature in Edwardian bathrooms. In addition to offering decorative appeal, they were seen as practical because they could hide dirt more easily. Opt for mosaic flooring for a hit of pattern that will contrast perfectly with ornate Edwardian designs.
Careful arrangement
The Edwardians put plenty of thought into their furniture arrangement in order to to minimise the need for excess plumbing and reduce clutter, so that statement furniture received the limelight it deserved. Think carefully about your bathroom layout in terms of space – proportion is key to creating a neat and relaxing atmosphere.
Space out furniture evenly
When arranging your furniture, ensure there is an adequate amount of space surrounding the bath and sink to prevent the room from feeling overcrowded.
Draw attention to period features
If you're lucky enough to own a bathroom with periodic features, now's the time to show them off! If you have a large bay window, transform it in a focal point by placing statement furniture in front. Make the most of authentic alcoves by decorating them with glass shelves and ornate accessories.
The Edwardian bathroom look is a trend that's lasted many decades, so you can be sure it won't look dated in years to come. By incorporating grand fixtures, you can invoke the Edwardian times and create a space that's packed with character. Explore our design guides for more bathroom inspiration.