Urban styling draws influences from artsy warehouses and modern living spaces in cities like New York and London. Its raw aesthetic makes it an effortlessly stylish choice for the bathroom.
From geometric tiles to moody colour schemes, we've compiled some of our favourite ideas to help you create a bathroom that feels like a trendy urban living space – whether your home is in the countryside, in the middle of a big city, or somewhere in between!
Introduce patterns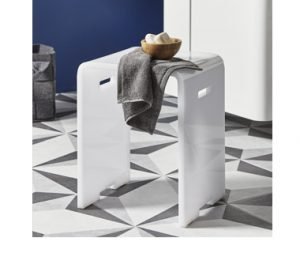 Minimal abstract patterns are the way to go when it comes to adopting a metropolitan look. When used correctly, they can create an air of sophistication. It's best to use them strategically to prevent them from overpowering your space.
Geometric tiles
Incorporate geometric flooring for a huge hit of pattern. Keep the rest of the space minimal to maintain a muted look. White furniture lends itself well to patterns and will create a powerful contrast.
Patterned feature wall 
A geometric feature wall will offer a stylish twist on urban design. It's the ideal backdrop for making white bathroom furniture pop, and concentrating it in one area stops it from feeling too busy.
Incorporate city-inspired textures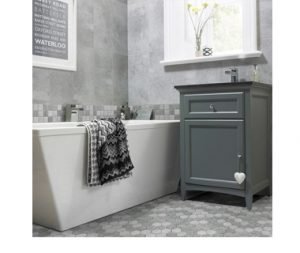 Adding texture helps to create a rustic atmosphere, ensuring patterns don't blend into one another. Materials such as concrete and marble are key ingredients in an industrial setting.
Marble
Marble evokes a sense luxury and can bring an air of refinement to an urban space. Tile the walls and floor to create a look that's reminiscent of a high-end hotel in the depths of the city. Work in some black furniture and overhead lighting for a dramatic contrast.
Concrete
Concrete is the material of choice when it comes to creating an urban-inspired space. Raw and unpolished, it's ideal if you want your bathroom to channel the modern loft look. Introduce concrete-like tiles on the walls to create a pavement effect.
Adopt a sleek colour palette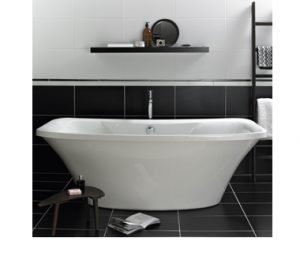 The colour of iconic buildings and city streets, slate greys and soft shades of charcoal are ideal for conjuring up a city feel. For an effortlessly urban look, stick to a tonal pallet and incorporate a splash of colour on a feature wall or with a few standout accessories.
Slate grey
Nothing quite says urban like slate grey tiles. Layer them with varying shades of lighter greys to create tonal depth. Beyond looking modern and edgy, it will also prevent the space from feeling too dark.
Classic black and white
Monochrome is a key colour scheme found in city apartments and will give your bathroom instant contemporary flair. Incorporating a black and white theme can be as simple as tiling half of the space black and the other half white, or styling black furniture against a white backdrop.
Add sculptural interest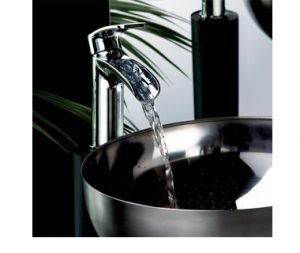 When we think 'urban', we often think of statement silhouettes and towering skyscrapers. Create a look that's reflective of the city's magnificent architecture by incorporating sculptured furniture that packs a big visual punch.
Rounded basin 
A washbowl basin with pronounced edges will create a bold statement and bring city hotel appeal. It's a great way to add both functionality and an artistic flair to your design scheme – choose an all-black design to create a bold statement.
Rounded freestanding bath 
Combine rounded silhouettes with a monochrome colour pallet and the result is an industrial look that's soft and inviting. An oval freestanding bath will create a sculptural statement that feels cosy when combined with wooden flooring. It's the perfect design formula for creating an urban theme with a welcoming finish.
By mixing raw textures with a city-inspired colour scheme and interesting bathroom furniture, you can easily bring a touch of urban to your space. Visit your nearest showroom to explore urban bathroom ideas up close, or browse our design guides for more inspiration.