Creating a designer look in your bathroom doesn't mean you need to cover it from floor to ceiling with exclusively brand name features. Instead, it's about selecting a few standout pieces that have a quality look and luxury effect.
From baths to bins, we've showcased some of our chic-est pieces to help you begin to envision your designer bathroom. Explore some of the industry's most respected brands as well as other beautiful pieces and get inspired to create your dream scheme.
Bathing in luxury
As one of the key features in your bathroom, investing in a quality bath or shower is a great way to give your layout a designer flair. Beyond looking sharp, designer baths and showers offer an indulgent bathing experience, adding something special to your everyday routine.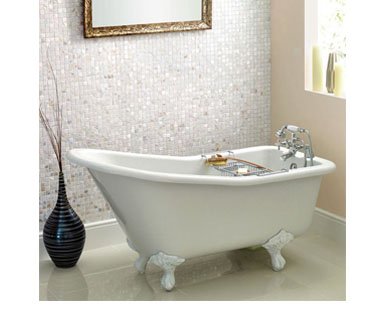 Every day is special with a whirlpool bath 
Beyond looking fantastic, a whirlpool bath will transform your bathroom into a luxury spa haven. Adjustable jets can be carefully positioned to give you a bespoke massage, which helps to improve blood flow. Any day of the week, you can light a few candles, put on your favourite album, and get ready to let go of stress and enjoy the ultimate relaxing experience.
Life feels easier with a digital shower 
Technology can make a difference in your bathroom, thanks to the glorious possibilities of an Aqualisa digital shower. You can control the experience like never before, with a dial that allows you to select your precise temperature and a boost function that instantly gives more power to your shower. You can even install a remote control within a 10-metre radius, allowing you to get the water flowing while you're still tucked up in bed!
Part of the furniture
Just as your bookshelves and sofa can dictate the feel in your living room, bathroom furniture helps to create an instant atmosphere. Choose quality pieces that give your space an instant sense of style, whether it's by making a statement or working together to create a sense of cohesion.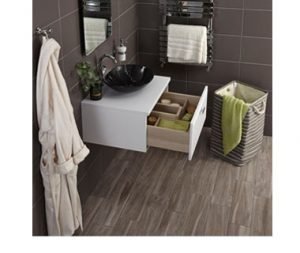 A matching set gets you design points 
Coordinating freestanding units, cupboards, and cabinets throughout your bathroom helps to tie the whole room together, giving it a purposeful designer feel. Vintage-inspired units, with wood panels and a classic shape, will add to the traditional look, while also providing useful storage and organisation.
Wow-factor furniture 
While we tend to think feature walls or artwork is the way to make your bathroom look unique, a standout piece of furniture can also act as a design statement, giving your layout an edgy feel. A bright-coloured bath or cabinet is instantly eye-catching, while a sleek wall-hung unit has a subtler effect.
Make the textiles sing
Sometimes the simplest additions can add a real polish to your bathroom design. Accessorising with specialty towels will instantly add a unique touch to your room, and while brand names can cost a little more, you'll instantly notice the difference in quality after stepping out of the bath or shower.
Add some pep with Pip Studio 
The quirky prints and lively colours used in Pip Studio's towels will instantly brighten up your bathroom. Ideal for a shabby-chic or family bathroom, the irresistibly fun patterns will pop against an all-white bathroom or pair perfectly with pastel tones.
Embrace Orla Kiely's retro-inspired prints 
Irish designer Orla Kiely is known for mixing bright colours with bold patterns, and you can get the look in your bathroom by styling it up with her signature towels. Featuring a 1960s-inspired floral print, it's a fun and quick way to add a designer flair to your scheme.
The designer is in the details
A quick and simple way to give your bathroom a designer feel is to pay attention to the details. Accessories can add both style and functionality to your layout, there's a huge amount of choice when it comes to high quality pieces that will make your bathroom look extra special.
Get Scandi with your storage 
Brands like House Doctor and Zone Denmark have perfected the art of stylish and useful storage. You can find woven baskets in different shapes, sizes, and colours, perfect for storing all your niggly essentials. Tuck big ones on the floor and place smaller baskets on shelves, ensuring you have a place to store the things you need that look good while doing it!
An excuse to decorate 
Decorative touches can be the cherry on top of a designer bathroom scheme. Choosing accessories like vases, flowerpots, and candle holders can give your bathroom a detailed feel. Brands like Nordal and Adari create high-quality pieces that look authentic and unique, so you can finish off your bathroom in style.
By choosing a few key pieces, you can take your bathroom to a whole new level. Look for quality features that have something special about them, and don't forget to pay attention to the details. For more bathroom inspiration, browse our full design guide collection or visit a showroom near you.