From your morning shower to brushing your teeth before bed, our daily routines can impact the environment. Designing an eco-friendly bathroom will help to reduce this effect right at the source, making everyday activities more efficient and less wasteful.
We've highlighted some of the ways you can design an eco-friendly bathroom in your home, so you can start living a more sustainable lifestyle while still enjoying all the perks of a modern and stylish space.
Water-saving bathing
Taking fewer baths and shorter showers are two simple ways you can be more environmentally conscious in your bathroom routine. And you can go one step further and incorporate eco-friendly features into the very foundation of your bathroom design.
Steel bath 
You already recycle your cardboard packaging and plastic bottles – so why not your bath? All Kaldewei steel baths are made with natural, raw materials that can be recycled at the end of their lifespan.
The manufacturer follows environmentally-mindful processes and have won several awards for sustainability, so you know you're investing in a product that will bring lasting style and quality to your home, as well as reduce your environmental footprint.
Water-saving shower
Boost the efficiency of your showers with water-saving technology. Designed to reduce water usage while still providing an enjoyable shower experience by mixing air and water, airdrop showers are a smart choice in an eco-friendly bathroom. And with a variety of fixed and multi-function fittings, you can find a style that suits the theme of your bathroom.
Other water saving essentials
Beyond bathing solutions, you can save water in your bathroom and make it even more eco-friendly by choosing an efficient toilet and water-saving taps.
Water-saving toilet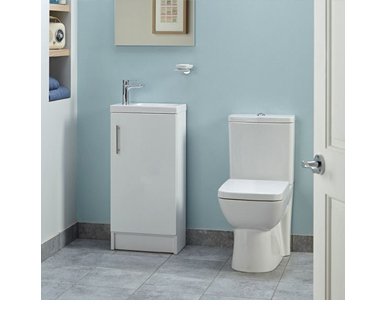 The toilet uses more water than any other feature in the home – Waterwise estimates about 30% of a typical household's overall water budget is spent on flushing. You can instantly improve this with a water-saving toilet, which has dual flush functionality that will reduce the amount of water you use.
A wall hung design will suit a modern bathroom, while a close-coupled toilet will look stylish in a traditional scheme.
Water-wise taps
Turning the tap off while you brush your teeth or wash your face is a quick way to be kinder to the environment, but you can also make a difference while the water is running. Look for taps with a WaterSave regulator, which have a lower flow rate and therefore use less water.
Get better lighting
Improving the lighting solution in your bathroom is another way to reduce your environmental footprint and create an eco-friendly scheme. It'll also give your bathroom a pleasant and welcoming atmosphere, which feels even better, knowing you're doing better for the planet.
Get more natural light
Having more natural light in your bathroom isn't only great for your grooming routine – it also means you won't have to reach for the light switch as often, and therefore will be using less energy. If you're undergoing a complete renovation, consider adding windows to your bathroom. If that's not an option, try to keep windowsills free of clutter and avoid using heavy curtains and blinds.
Fall in love with LED
If you haven't already done so, it's easy to fall in love with LED bulbs – they use up to 90% less power than incandescent bulbs and therefore save both money and energy. They also last longer, which means less hassle replacing them. For a truly stylish eco-solution, opt for an LED mirror, which provides elegance and illumination in equal measures.
Make better choices
To create a truly eco-friendly scheme, your products should be just as sustainable as the features in your bathroom. Luckily, there are many environmentally friendly alternatives you can bring into your everyday routine to complete your whole bathroom transformation.
Eco-friendly essentials
Be mindful when shopping for bathroom essentials and pay attention to the labels. Where possible, choose products that use minimal packaging and can be recycled once they're used up.
By being mindful of materials and looking for water-saving solutions, you can create an eco-friendly bathroom that looks great and does wonders for your environmental footprint.