Get that high-end hotel feeling with a luxury bathroom and make every day feel like a spa day by adding luxurious features to your layout.
To create an ultra-indulgent atmosphere in your bathroom, layer textures and colours and choose beautiful pieces that bring a sense of extravagance. Browse our gallery for inspiration and ideas about how you can create a luxury bathroom suite in your home.
Marble is marvellous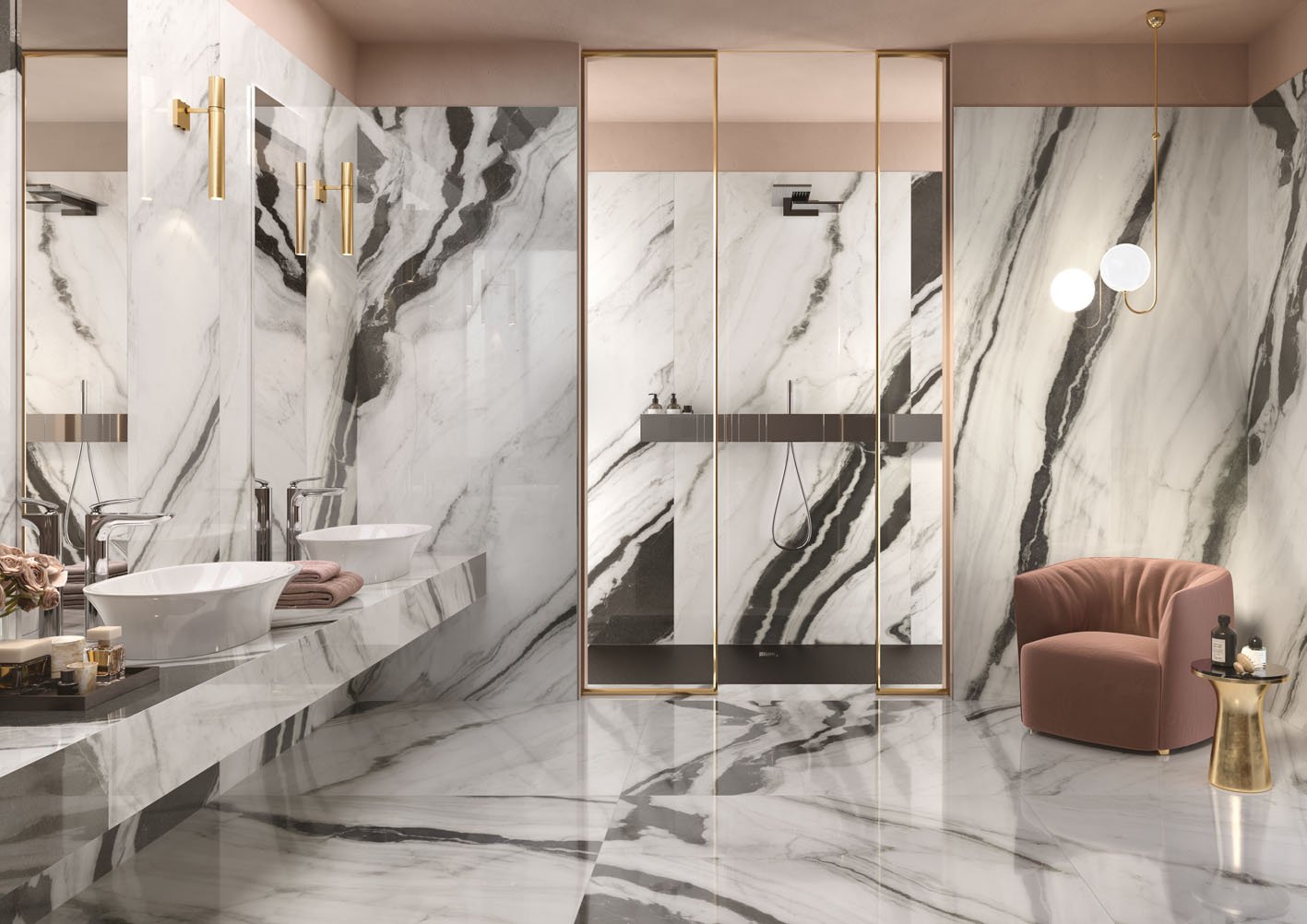 Certain textures will give your bathroom a distinct atmosphere, and nothing quite says 'luxury' like marble. Elegant and sophisticated, you can style it across your entire layout or choose a few key highlights to give your bathroom a regal feel.
Dress it head to toe in marble
Give your bathroom an all-encompassing sense of luxury by using marble tiles on the walls and floor. The natural texture of marble is elegant yet understated, so you can style it across your layout without overwhelming your space. Choose a neutral tone, such as beige or grey, to keep your bathroom feeling open and airy, or opt for rich black or bright white to make a bold statement.
Give it a marble touch
For an artsy effect, choose a single marble feature and let it stand out against the rest of your bathroom. Marble worktops can be a quick way to incorporate the look into your layout, while a marble washbowl is a unique element that looks great when contrasted against a worktop and backsplash in a single opposite colour.
Freestanding tub: the Queen of Luxury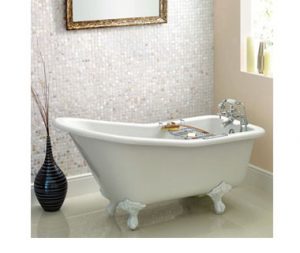 When it comes to luxury features, you can't get much more indulgent than a freestanding tub. Great for medium and large bathrooms, you can style it in a corner for an understated look or let it sit in the middle of the room (if you have enough space), basking in well-deserved glory.
Float on traditional feet
A tub with resin or cast-iron feet has an irresistible vintage appeal, and will instantly create a sense of past-days luxury in your bathroom. Choose a roll top design for a true antique look, and pair it with cross head taps and a throwback playlist for a perfect afternoon of relaxation.
The modern age of indulgence
If you want to bring a bit of old school extravagance in a modern bathroom, choose a geometric freestanding tub that sits flush against the floor. Beyond making a design statement, the generous bathing area means you can enjoy optimum style and comfort. Using tiles to create a border around the edge is a clever way to add a touch of drama to your star feature.
Add some shine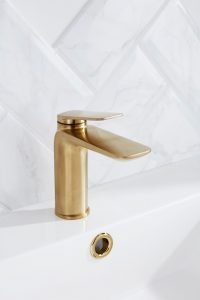 When designing a luxury bathroom, you have the best excuse to add a bit of dazzle – don't miss out on the chance to include eye-catching bits and pieces across your layout. Turn basic components into beautiful features or make a statement with a grand addition.
The beauty in the (metallic) details
Fill the nooks and crannies with luxury by including metallic details across your layout. Rose gold is an ultra-trendy and versatile colour that looks great in both modern and traditional bathrooms. For a subtler finish, choose bright silver. Or, if you want your bathroom to scream luxury, go for gold!
Crème de la luxury crème
For a real luxury effect, don't shy away from a dramatic feature. A chandelier is the ultimate luxurious statement – style it with a relatively understated scheme to avoid going over the top. Alternatively, an oversized framed mirror or a sculpture can have the same, extravagant effect – find a piece that reflects your personality, and let it do the talking.
That real luxury feel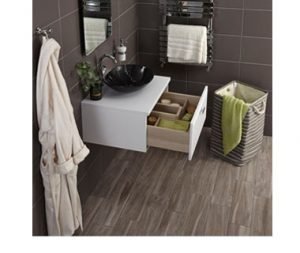 While looks are important, don't forget about the other sensory details. Thick, soft, fluffy textiles can make your bathroom feel luxurious, giving it a quality touch that takes you to a whole new level of comfort.
Treat yourself right with towels
The right towels can make all the difference to your daily routine. If you're after something truly indulgent, opt for Egyptian cotton with a high gsm (grams per square metre) weight, meaning you'll enjoy softness and lasting quality. The extra-large cosiness of a bath sheet is great for wrapping into at the end of a long day, while matching hand towels will make even your pre-bedtime routine feel special.
Everyone deserves a dressing gown
From first thing in the morning to the last thing at night, a dressing gown is the perfect accessory to accompany your luxury bathroom layout. Choose a material that you love the feel of in a colour that suits you, and find a special place to show it off in your bathroom. If you want to really coordinate, opt for a shade that complements your colour scheme or make a statement with a bright colour or pattern.
Set a luxury mood
To finish off your luxury bathroom, create an atmosphere that feels extravagant as soon as you step inside. Including thoughtful details like candles and accessories is the ultimate way to kit out your scheme and add that extra touch that turns it into something truly special.
Light up your life with candles
Candles are a guaranteed way to brighten up your bathroom, adding warmth and enhancing the overall mood. With an endless range to choose from, you can find the ideal look and scent to suit your scheme. Elegant, classic bathrooms will look beautiful with a collection of creamy white candles while patterned or metallic designs can bring a touch of fun to your scheme.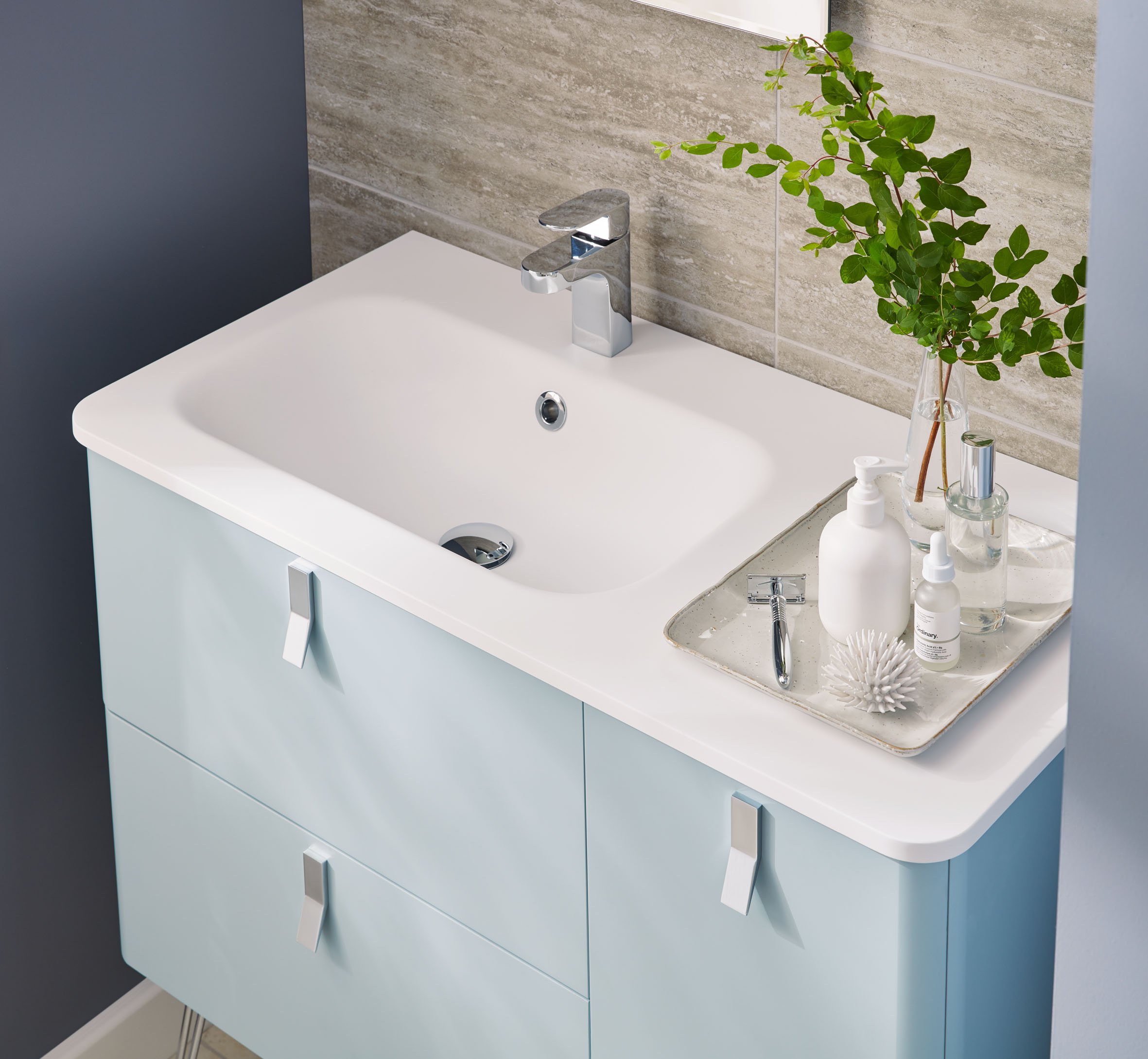 Pretty plants and their pots
Bring the outdoors inside to inject a bit of life into your design scheme. Bathroom plants thrive in the bathroom environment, and they give your luxury layout a personalised feel. Beyond the beauty of the plants themselves, you can style them in decorative vases that add thoughtful elegance to your bathroom. Whether you're after a modern, geometric style or you opt for vintage glass, it's a quick and simple way to bring an artistic flair to your design.
In addition to a luxurious look, you can create an extravagant atmosphere in your bathroom by choosing the right features and accessories. Visit your nearest bathstore showroom to see how you can get started with your luxury bathroom suite, or browse our other design guides for more inspiration about planning your layout.