As well as keeping your bathroom organised, cupboards and cabinets can help create an ultra-modern look. Wall hung furniture will save space and look stylish, and contribute to a stripped-back aesthetic.
Get futuristic with floating furniture
Choose monotone colours for a subtle look
Match your furniture to your wall and floor colour for an understated look across your design scheme. For a cohesive look that isn't too uniform, mix different shades and textures. Tones of grey have a sophisticated effect, whereas white is a great choice for brightening up a small bathroom.
Contrast tones for dramatic effect
Balancing light and dark colours is a great way to make a design statement, and using wall-hung furniture against a contrasting background can look especially bold. White furniture stands out against almost any colour – black and white is a classic combination, whereas an unusual tone such as brown or maroon can look modern and create a softer atmosphere.
Pale shades for an airy atmosphere
White and modern design go hand in hand. Beyond looking fresh, it's a timeless shade that will help to brighten up your bathroom. Use white to create an ultra-modern look or tone it down by mixing and matching it with different tones.
Go all out with all white
Though white might be a simple shade, using it across your entire bathroom scheme will create a big statement. Styling a natural texture on the floor and walls, such as marble, will soften the look, while opting for a uniform tone across the walls, flooring, and furniture has an almost futuristic effect.
Embrace a touch of grey
Mixing white and grey can make your bathroom feel calm and tranquil while still maintaining an airy feel. Matt grey tiles and charcoal accessories look natural with glossy white features, to create a modern, spa-inspired atmosphere.
Get playful with shapes
Geometric shapes are a staple of contemporary design, and you can use them in your bathroom to add a fun flair to your modern scheme.
Be bold with your basin
Beyond being a key part feature in your bathroom, the basin can become a design statement. A round washbowl basin is both elegant and artistic, and can stand out as a contemporary piece. Alternatively, a rectangular basin has bold, sharp lines that are consistent with the sharp contours often seen in modern design.
Shape shift across your scheme
Just as choosing one feature in a dramatic shape can make a bold statement, you can also have a bit of fun across your entire scheme by using variations of the same shape. Using different sized rectangles, squares, circles, or hexagons across your walls, furniture, flooring, and accessories can create a unique theme and add playful texture to your bathroom.
Live in the now with futuristic features
There are many fun ways you can embrace modern technology in your bathroom. From subtle accessories to luxurious features, you can create a bathroom that looks contemporary and works like a modern charm.
Light up your life with LEDs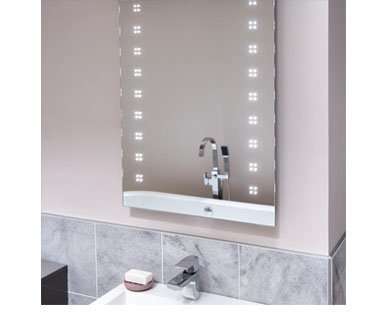 An LED mirror can bring an innovative flair to your bathroom design. Beyond looking smart, it provides additional light and brightens the overall atmosphere. Tech features like a motion sensor and demisting pads mean it's ready and waiting to make you look and feel great.
Create an entertainment zone
You can incorporate your favourite entertainment features into your bathroom, for a truly modern atmosphere. A waterproof TV allows you to stay in tune with the news and enjoy your favourite programs while you're in the shower or bath, while a Bluetooth shower head can blast your favourite songs or the latest podcast streamed from your phone to add something extra to your daily routine.
Add a natural feel with wooden touches
While wood may typically be used in a traditional bathroom, it can also work well in a modern scheme. Choosing a pale finish will maintain a contemporary feel, to contribute to a fresh, Scandi-inspired bathroom.
Rustic meets modern with wood flooring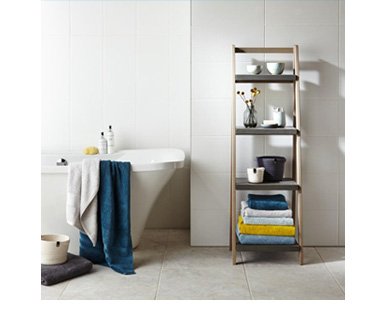 Pale wood flooring can add warmth to the overall atmosphere in your bathroom while still maintaining a modern feel. To achieve a Scandinavian feel, use a light, matt shade and pair it with white or grey walls.
Wooden storage for a unique spin
If you want to add a hint of Scandi-chic to your space, simple wooden shelves and storage is a quick and easy way to bring a modern Nordic touch to your design. A ladder shelf is both stylish and functional, perfect for showing off your essentials, while wooden cabinets or storage boxes will blend easily into a contemporary layout.
By layering light shades and incorporating contemporary touches, you can create a modern bathroom that has a timeless feel. Visit your nearest showroom to explore contemporary bathroom ideas up close, or browse our design guides for more inspiration.