Making the most of limited bathroom space is a challenge that most of us will face at some point in our lifetime, but help is at hand – as there's a wide range of products, tips and tricks that can enhance even the smallest of ensuites. And we're here to share the best of them with you in this handy small bathroom ideas guide, ready to spruce up your space and get it looking its best.
Make Space for a Shower After All
No space for a shower? Small bathrooms can be a haven for low ceilings and awkward corners, but if you haven't got the height – we've got the solution, a bath & shower mixer tap. Forget a long wall rail, this handy bit of kit attaches to the side of your bath and offers your usual bath taps with a luxurious handheld shower head on top.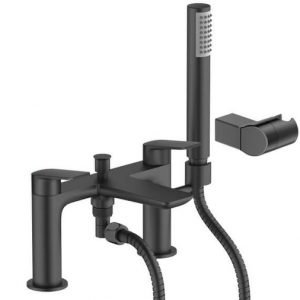 For Instagram-ready ideas, our gorgeous  offers gleaming gold or chrome finishes, or try Bathstore's Aero Shower Mixer Tap in modern Matt Black or Brushed Brass to add a cool and contemporary feeling to any small bathroom.
Discover Small Bathroom Style to Reflect on
When it comes to creating the illusion of space, there's simply nothing that supersizes the look of a small bathroom quite like the right mirror. Whether you're looking to make a dramatic statement, keep a neutral sense of space or find an unusual mirror shape to match an awkward bathroom space, Bathstore has a range of mirrors to suit.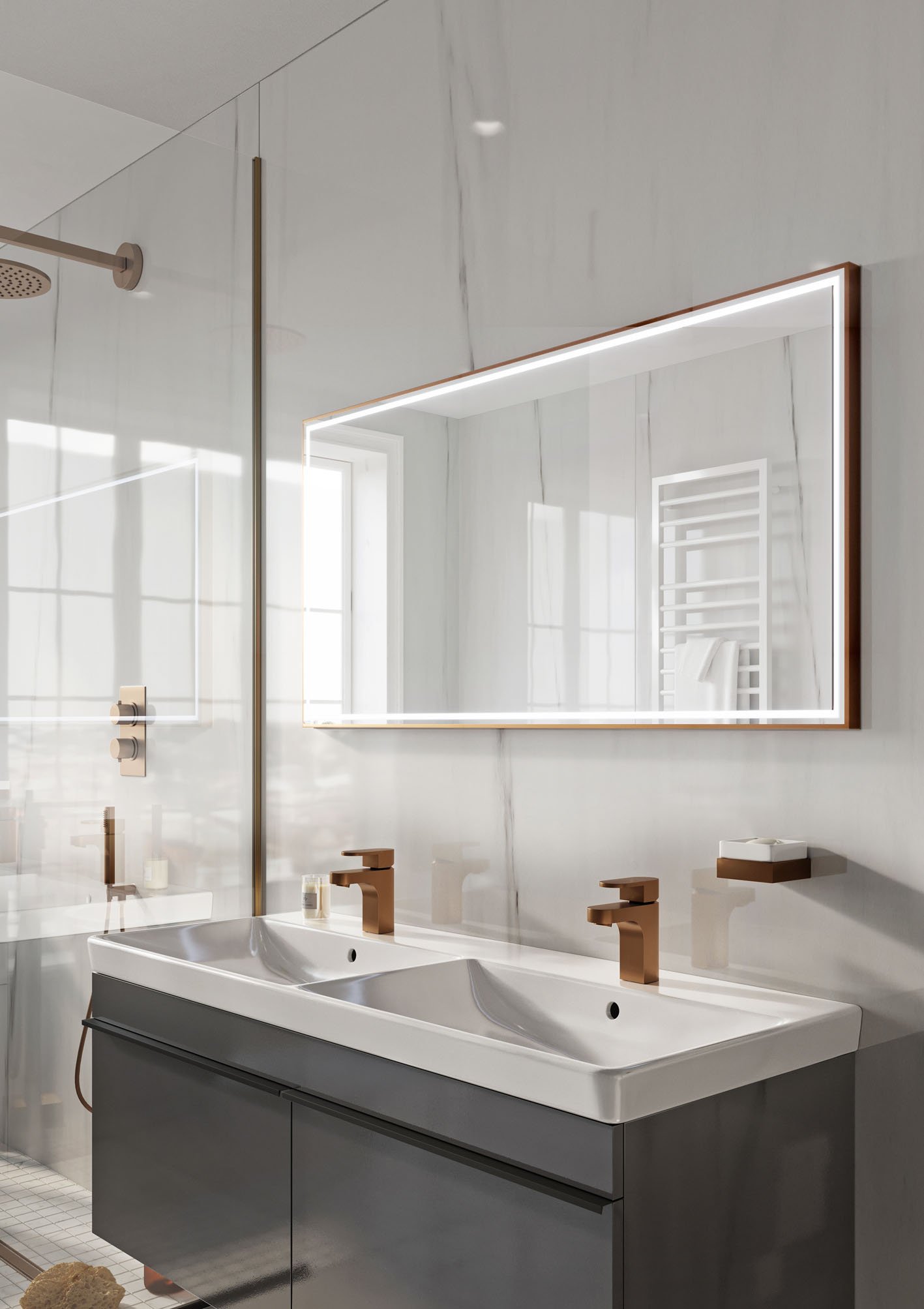 Keeping it simple but stylish? Our Noir Round Mirror has a bold, light-boosting black leather-look frame with chic curves, or maximise your reflected space while avoiding arguments in the morning by doubling up on our amazing Watertec Arched Mirrors for matching his and hers accessories.
Put away the Pipework with a Concealed Toilet
Saving space and creating a contemporary look? You can enjoy both even with a small bathroom thanks to a back to wall toilet – designed to cut down on clutter by hiding your pipes behind a wall or vanity unit. Simple to install with a little know-how, it's the elegant way to free up extra room in your ensuite for extra accessories or even a back to wall bath too.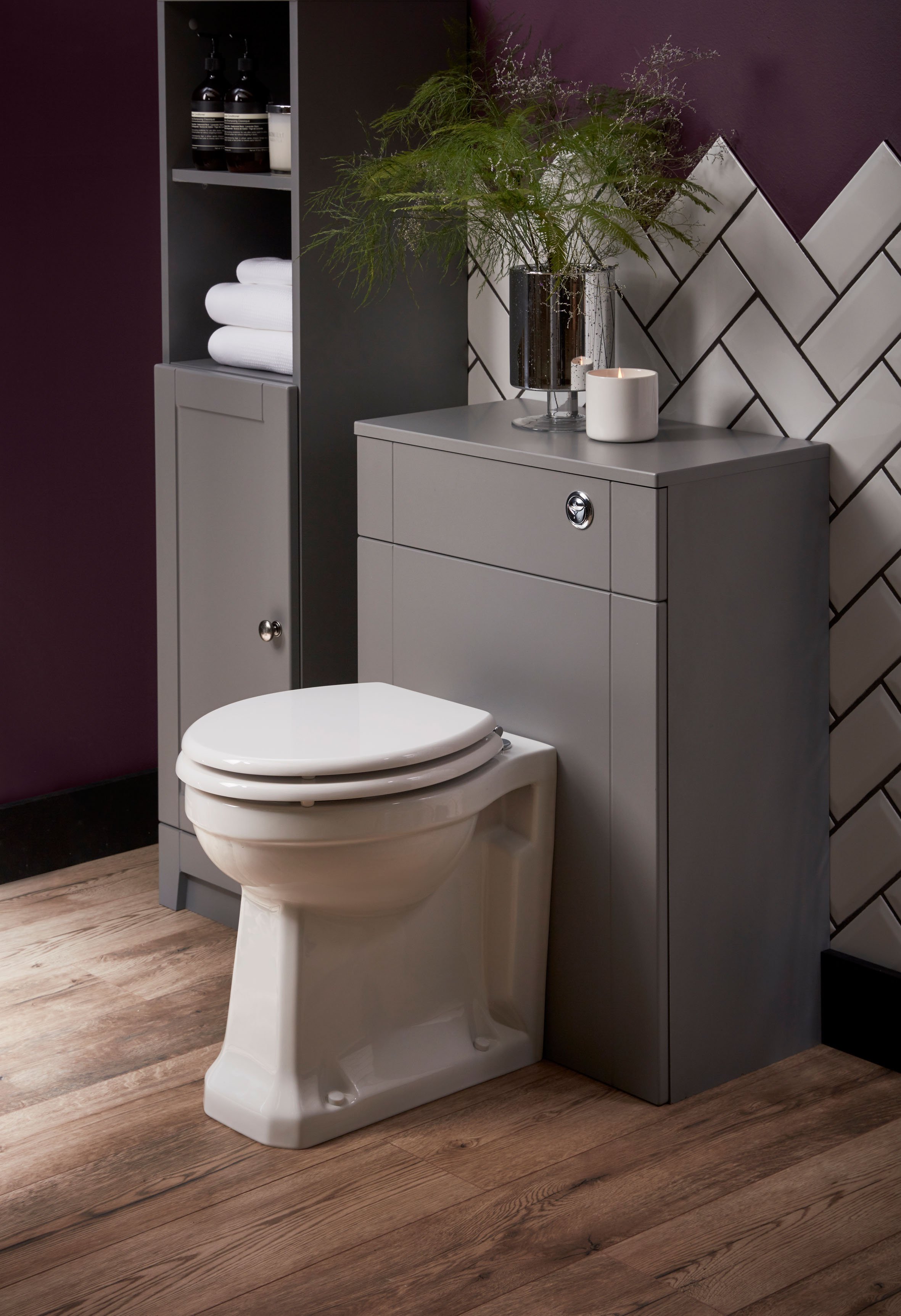 At Bathstore, it's easy to treat yourself to sharp art deco lines with our trend-setting square Watermark Toilet, or pick something with period features – like our white wood and china Whitechapel Toilet instead.
Save Space with Wall Hung Accessories
A small bathroom should be no limit to your creativity, especially with all the amazing wall mounted basins and taps Bathstore has to offer. There's a wide range of heights, widths and depths on offer, meaning you can find a beautiful design that's bespoke to your bathroom's style and size.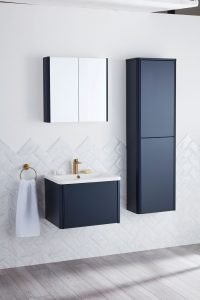 From our Gloss Grey, White and Matt Indigo Sienna Basins to our neat and clean Balterley Basin or Aero Wall Mounted Mixer Taps, there's no shortage of stunning design ideas ready to add a touch of class to a small bathroom. What's more, the lack of a pedestal means you can make the most of the space underneath for extra storage or shelving too.
Get Hooked on the Idea of Simple Bathroom Storage
Sometimes the best ideas for saving space in a small bathroom are also the simplest, and it doesn't get much simpler than bathroom hooks. Easy to install and effortlessly versatile, they're an excellent replacement for everything from storage cabinets to counter space and closets – especially if you're using them to hang up towels, robes and other bathroom must-haves.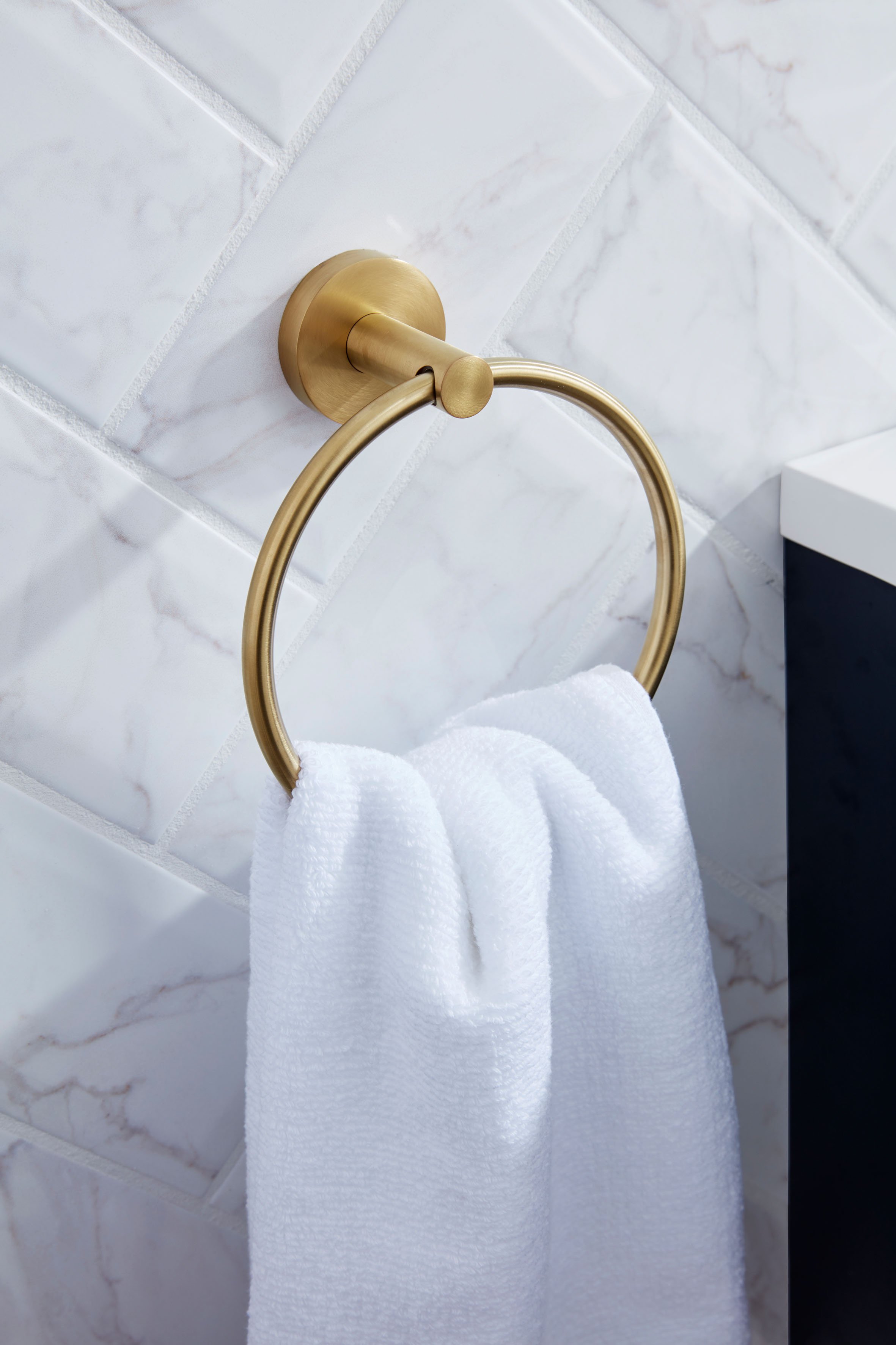 At Bathstore, our bathroom hooks come in a stylish selection of colours and finishes too, meaning they can pair perfectly with your current small bathroom style. Match modern designs with our Aero Matt Black finish, or keep a sense of timeless chic with Forge's Stainless Steel robe hook instead.
Make the Most of Multifunctional Furniture
When you're picking furniture that can help you make the most of a small bathroom, it makes sense to choose pieces that can cut down on the total amount by combining features too. Bathstore has a wide range of stylish yet practical multi-functional furniture, like our vanity units that pair basins with storage or a back to wall toilet too.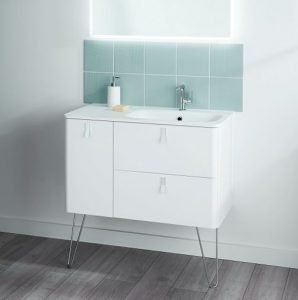 See how much space you can save with our Sketch unit collection, which offers three impressively sized storage cupboards with a sleek mixer tap in 6 bold colours, or try our two-piece Match Compact Vanity & Toilet Unit instead – with a back to wall loo, basin, shelf and storage all in one beautiful glossy package.
Synchronise Style with Matching Floor and Wall Tiles
If you've ever wanted to create an optical illusion in your bathroom, now's your chance. Making the most of a small space can be as simple as matching your floor and wall tiles, especially with a design that suits your style. Keeping a look that flows across the floor and up your walls makes any small bathroom look instantly bigger, as well as ensuring it's effortlessly easy to replace any damaged or worn-out tiles by saving a few spares too.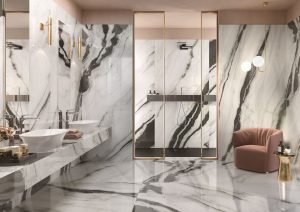 If you're stuck for choice, Homebase's ceramic Snowdonia tiles are a great way to add class and charm to your wet room's walls, or keep it closer to a classic poured concrete look with our stunning Koshi Anthracite picks instead.
Combine Heat and Storage with a Towel Rail
Heating your home while drying your towels? It might sound impossible, but a heated towel rail might just be the small bathroom accessory you never knew you needed until now. Even if you don't have a lot of wall space to work with, these little beauties will make sure you don't have to compromise on style. Straight, square or slimline – towel radiators come in all shapes and sizes to suit any ensuite, with plenty of shades too.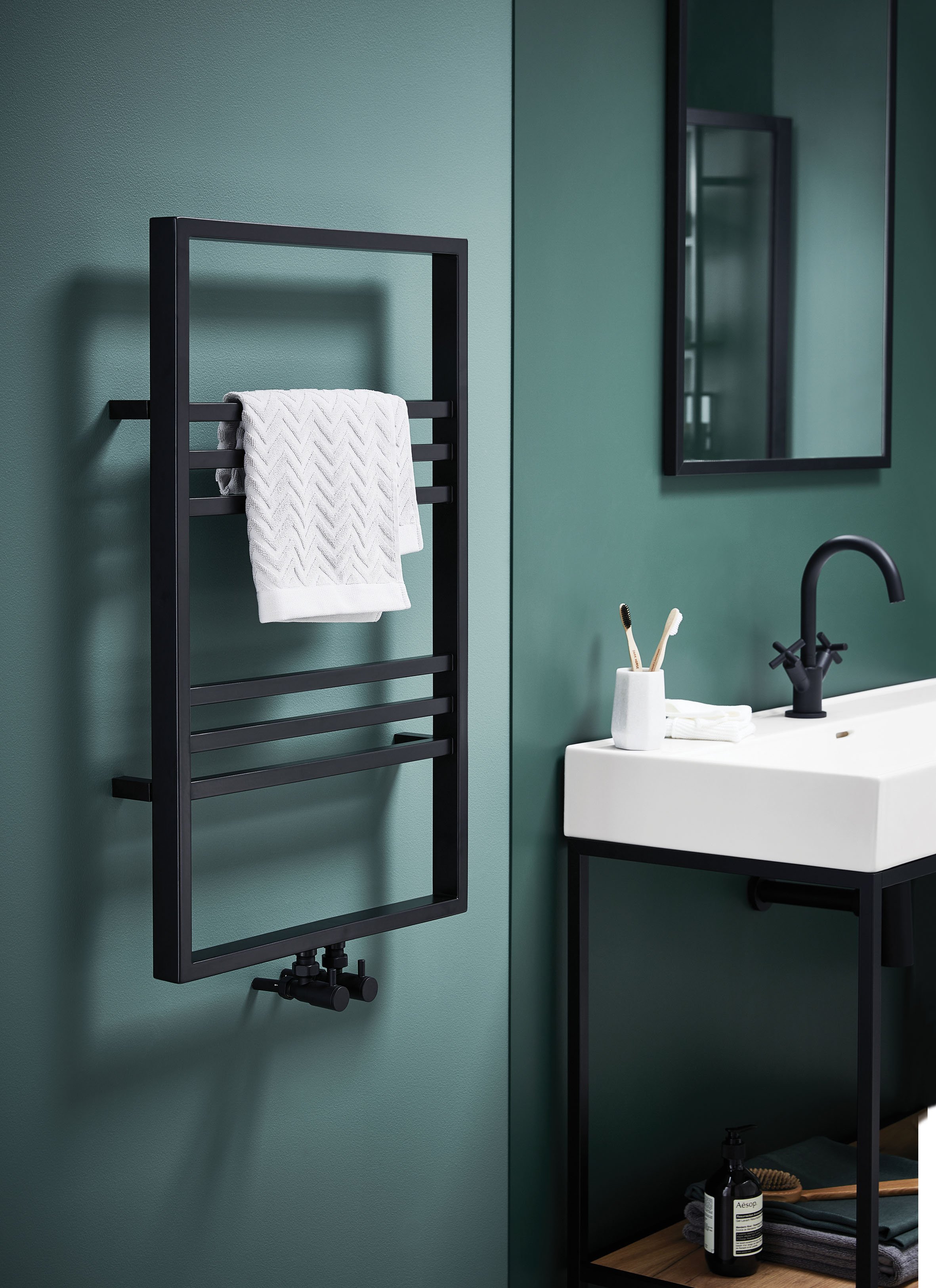 Make your small bathroom into a modern masterpiece with our Mayfair Anthracite Radiator, or conjure up ideas of classic luxury with our vintage Hampshire Radiator instead.