A timeless bathroom will look current throughout the years – if you make the right style choices today. Get the look in your home by pairing traditional features with a simple colour scheme to create something that's still elegant and effortlessly chic.
Explore our timeless bathroom gallery for inspiration to create your dream design.
When in doubt, choose white
White is a versatile shade that will bring everlasting style to your bathroom. Because it's light and bright, you can use it across your entire scheme, from the walls to the furniture, without overwhelming your space.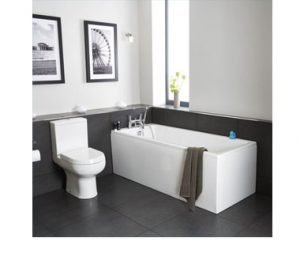 Use white to create a blank canvas
The beauty of white is that it looks great with everything. Use bright white tiles and features for a fresh, timeless feel you can update with colourful accessories and artwork through the seasons and years. Bright towels can be a great way to inject a pop of fun into a family bathroom, while choosing creamy pastels can hint at a shabby-chic look.
Layer shades of white for a calming atmosphere
Choosing to design a white bathroom doesn't mean you must have a monotone scheme. You can get a timeless look by layering different shades of white, to give your space atmosphere and create depth. Using matt white paint or tiles on the walls will give the room a sense of tranquillity, while bright white furniture and features will help to bounce light around the room.
Themes that will stand the test of time
If you want to embrace a bolder and more distinctive look in your bathroom while still maintaining that timeless feel, there are many classic themes to choose that have remained stylish throughout the decades.
The enduring appeal of black and white
From the iconic checkerboard floors of the 1950s, to the pop art of the 1960s, and the whacky patterns of the 1970s, black and white has had a design appeal throughout history.
And it can still give your bathroom a timeless feel today. Make a bold statement by contrasting black flooring and walls with white features. For a subtler effect, add a hint of black to a white bathroom scheme with black shelving and accessories.
Timeless tranquillity with neutral tones
If you want a warm, spa-like bathroom that will stand the test of time, choose neutral colours and special features that have a touch of luxury, such as a waterfall tap or thermoform shower. Floor and wall tiles in creamy shades of beige have a calming effect, and can be paired with black, white, and wooden features to create a varied look across your layout.
Scheming about colour
Some colour trends can quickly become outdated, but that doesn't mean you can't embrace the rainbow in your bathroom. When used right, certain colours will look classy and natural in any bathroom, and are sure to stand the test of time.
There's always time for blue
The aqua connotations of blue make it a popular shade for bathrooms, and it's a smart choice if you want to incorporate coloured walls in a timeless scheme. Choose a traditional shade, such as pale blue or navy, to use across the walls and pair it with neutral flooring and white features for enduring style.
Learn more about using blue in your bathroom design.
The eternal appeal of pastels
If you're keen to incorporate a livelier hint of colour, consider using a pastel shade across a feature wall. Whether you opt for a sage green, pale pink, or buttercup yellow, the subtle, creamy properties of pastel colours means they never go out of fashion. Use white across the other walls and the floor to modernise the look.
The everlasting appeal of wood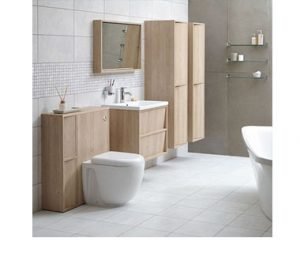 Wooden furniture will bring instant warmth to your bathroom scheme, allowing you to create a welcoming atmosphere while also incorporating functional storage. From pale pine to dark walnut, there are plenty of finishes and colours that will complement your timeless bathroom.
Light wooden features for an airy bathroom
Light wooden touches will help to create a natural look in a timeless bathroom. To break up an all-white scheme, choose matching units and cabinets in a simple design, which will act as a feature point without overwhelming the layout. For a more understated effect, wooden shelves and accessories are versatile additions that will can bring both texture and warmth.
Tall, dark, and handsome wooden cabinets
Dark bathroom furniture will instantly give your bathroom a refined feel. Dark wooden cabinets and units have an elegant appeal that works perfectly in a timeless bathroom. For a luxury look, choose a rich wooden finish and pair it with tones of black and grey. Or, if you want to counter the darker shades, the obvious choice is white flooring.
Time travel with ageless features
Champagne, jazz, the little black dress… Certain things just never go out of style. Incorporating key features in your bathroom will add both character and class, giving it a unique feel that will reflect your personality while always looking bang on trend.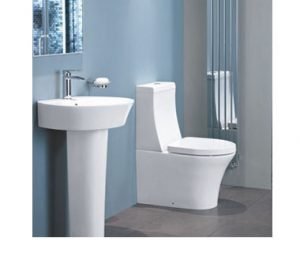 Stand proud with a pedestal basin
The classic shape of a pedestal basin means it looks natural in a variety of bathroom schemes. You can incorporate a hint of period drama into your bathroom with an Edwardian-inspired basin, or opt for more minimalist shape that still has the same timeless appeal.
Learn more about choosing the right basin for your bathroom.
Eternally elegant freestanding tub
Freestanding tubs are irresistibly elegant, and can be the ultimate feature piece in your bathroom. A resin foot tub will bring a bit of antique charm into your scheme, while a rectangular-shaped tub will give your bathroom a slight modern edge. Whichever style you choose, a freestanding tub is guaranteed to have the same luxurious quality for years to come.
A timeless bathroom scheme is all about creating a stylish foundation with quality pieces and neutral colours. By choosing classic features that reflect your taste, and adding a hint of personality here and there, you can design a bathroom scheme that you'll love day in and day out. Visit your nearest showroom or explore our timeless bathroom suites.