When it comes to creating a luxurious bathroom, nothing could be more desirable than a walk-in shower. Clean lines and minimal doorless styling instantly open up the possibilities, so you can tailor your walk-in shower to get a look that works perfectly for your bathroom, whether it's generously proportioned or compact.
We've put together a guide with a selection of walk-in shower ideas – offering you design inspiration and practical pointers covering the types of screen, shower trays, shower heads and much more.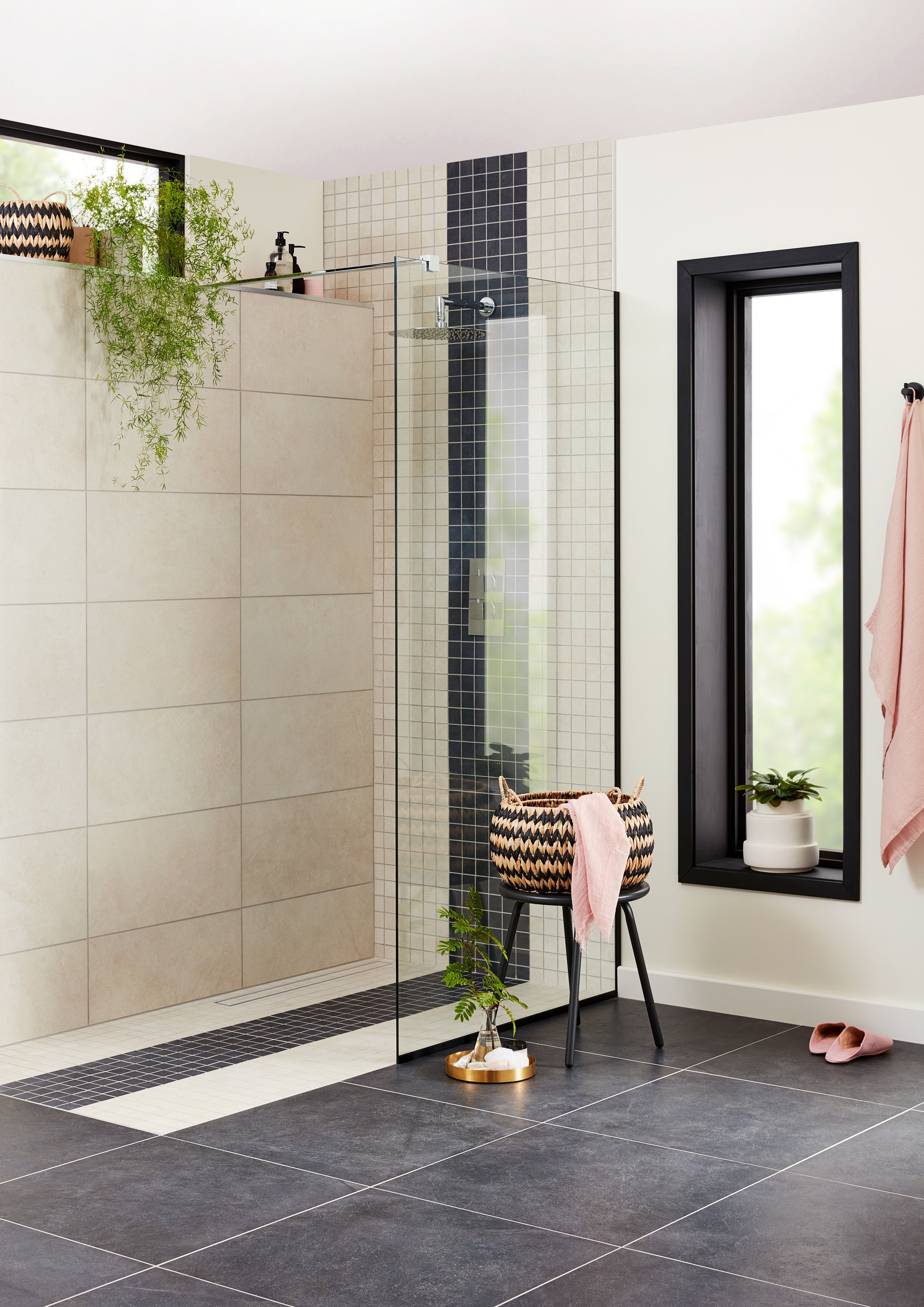 Is your dream shower walk-in or walk-through?
One of the first decisions you'll need to make – often guided by the available space – is whether you go for a walk in or walk-through shower. As the name suggests, a walk-through shower creates a wonderfully indulgent showering experience and gives you the feel of wet room. But a walk-in shower can feel equally luxurious.
The screen you pick for a walk in shower will most likely be fixed to a wall at one side, whereas a walk through shower screen will be held in place by a bar from the wall opposite or the ceiling. Both types come with or without side screens, so you have the freedom to create the look that you've always dreamed of. Walk in and walk-through shower screens in our Playtime range come in a selection of widths, too, so you have plenty of choice.
Complement your style with the right shower screen style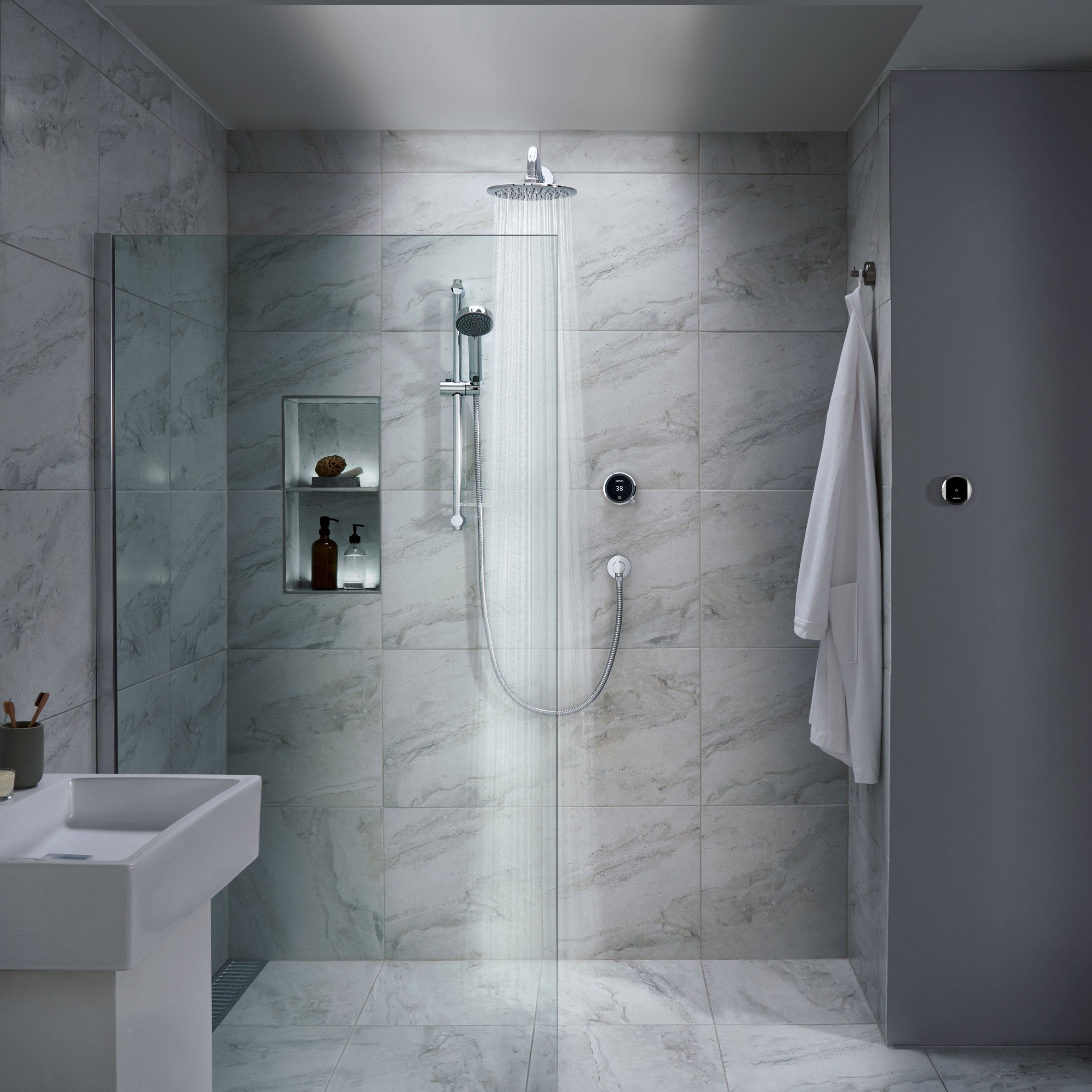 A walk-in shower is defined as being doorless – with a screen there simply to separate your shower from the rest of the bathroom. These come in a wide range of sizes so you can create a walk-in shower in a room of almost any dimension. With screens from 700m to 1200m in our Playtime collection, you can tailor your shower to the available space, even if it's limited. In fact, it's the minimal styling of a walk in shower that makes it such a good choice for even small bathrooms.
Choose a design with a side screen for a little more water containment – great if the whole family will be using it – or a frameless style to give your room the ultimate in open, minimal styling. Screens can be supported by a wall profile and by ceiling supports, so whatever the shape or layout of your bathroom, you will find an option that works for you.
Mixing up your Shower Head can Change your Look
While you may think a separate shower head – from the wall or the ceiling – is your only option, you may be interested to hear that there is an alternative. Our walk-in shower range gives you the choice to go for a shower head that's cleverly built in. Look out for designs that feature an integrated shower head, and you'll see that it doubles as the support which holds the screen in place – so you keep the design clean, simple and minimal.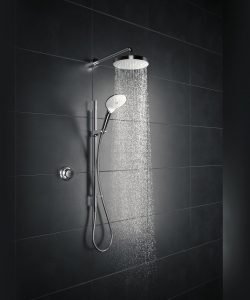 If you prefer a separate shower head, however, you'll be spoilt for choice – from Noir to Fresh Square, from Etta to Piano, we have shower heads to suit bathrooms of all styles. But whether you go for integrated or separate, you can be sure that a large shower head with concealed valves will treat your room to the feel of a luxury hotel and add real wow-factor.
Use Contrasting Colours for a Statement Shower
While you're thinking about what to put on the walls, it's also time to consider the colour scheme for your walk-in shower. This will make a huge difference to its overall look and feel – so here are some ideas. A striking monochrome colour scheme is a timeless classic that delivers maximum impact. You can achieve this simply by contrasting Noir Black shower against crisp white Metro tiles and a White Rak Slate shower tray. Simply yet exceptionally effective.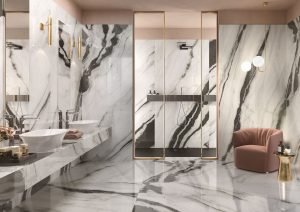 Or for an on-trend look with enduring style, our Etta Round shower head in Bronze is a stunning choice. Contrasted with Metro tiles in Grey, the result will be reminiscent of boutique hotels. Add a Slate Rak shower tray to complete the look.
Think Small with our Compact Walk-in Shower Ideas
You don't need a large space to be able to enjoy a walk-in shower, as our ideas for small bathrooms, show. The beauty of these doorless showers is that you only need enough room for the screen and the tray. Screens like our frameless Playtime 700mm will give your small bathroom a modern and cutting-edge feel, without dominating your room. It's a simple design that will work beautifully in a contemporary bathroom where space is at a premium.
Choosing a walk in shower with an integrated shower head pares the design back even further, and it's this under-stated styling that ensures your shower will look the part in a shower room or en suite of small proportions. A shower tray in the same colour as your tiles will keep it seamless too, creating an illusion of space in even the smallest of bathrooms.