Please note: This advice is based on general guidance only, and therefore may not apply to your specific shower system. If you're ever in doubt about the way your system is operating, or if you're unsure about making any alterations yourself, contact a plumber for professional advice.
Turn up the volume on your water main
Before you consider upgrading your shower or plumbing system, you might want to check that your water main valve hasn't been turned down. This could have been carried out by previous owners who may have turned the pressure down in a bid to use less water, or by someone who has recently carried out work on your property.
To resolve this problem, locate the shut-off valve on your main water supply and turn anti-clockwise as far as it will go. If the pipework close to the valve is showing signs of corrosion, you might want to hire a plumber to ensure you don't damage the pipe or any of the other fittings.
Mineral sediment build-up
Water carries minerals, which means mineral deposits can build up in your shower head over time, causing it to become clogged and therefore reducing the flow of water.
To remove the sediment, simply unscrew your shower head and leave it to soak in a bowl of cleaning solution overnight (or a minimum of eight hours). Before you do this, make sure to check the product specifications to ensure the solution won't damage your shower head.
Once soaked, use a toothpick to remove any excess sediment and screw the showerhead back in place.
If the build-up has been left for some time and is proving difficult to remove, you might want to consider investing in a new shower head.
Low water pressure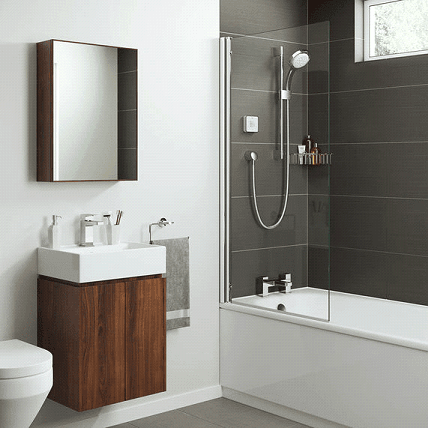 Many water systems in British homes are located in the loft and rely on height to provide adequate water pressure to the home. If your shower seems to struggle, check that the fixtures and fittings are designed to accommodate the level of pressure in your bathroom.
If you happen to live in an apartment, or a home where the water tank is located at a level closer to the shower head, you may have a low-pressure system and therefore need to invest in a shower head and taps that are designed to work under low pressure conditions.
The Vier pumped mixer rear fed digital shower kit can improve water pressure in your shower instantly. Designed to give you a powerful showering experience, this low-pressure water system solution uses Flipstream Technology to deliver four unique spray functions from one handset.
Installing an Unvented Hot Water Cylinder
If your home is limited on space, or you have a large household that often has multiple showers and taps in use at the same time, a pressurised unvented cylinder could help to increase your water pressure. An unvented hot water cylinder doesn't need a cold-water tank to operate, and instead feeds hot water directly from the mains.
Installing such a system is something you may need to budget for, as it will likely require your plumbing to be extended or completely replaced. However, the cylinder will last a lifetime, making it an effective and worthwhile investment.
There are several ways to increase the water pressure in your shower, allowing homes of all shapes and sizes to enjoy a satisfying showering experience. Browse our extensive collection of showers and accessories to find a stylish design to complete your home.