Nothing brings your bathroom to life like transforming the floor with fresh tiles. From porcelain to ceramic, there are hundreds of choices when it comes to colour, texture and finish – enough to create any design and suit any décor you like. What's more, tiling your bathroom floor isn't a difficult job, so if you're wondering how to lay floor tiles yourself without hiring a professional, our simple step-by-step guide has all the answers you need.
What you'll need
Bathroom tiles
Tile spacers
Tile scorer
Tile cutting pliers
Adhesive
Adhesive trowel
Grout
Squeegee
Drill
Mixing paddle
Rubber mallet
Grout rod
Tape measure
Ruler
Blank paper
Pen
Spirit level
Things to remember
To calculate how many tiles you will need, compare the coverage listed on your tile's packaging with the m2 size of your bathroom floor (length x width). It's best to have 10% extra for wastage too.
If you want to prevent slight differences in colour, you best bet is to try and buy tiles from the same batch.
Once your floor is laid, save any leftover bathroom tiles in case you need to replace some in the future.
Make sure your floor is clean and dry before you start.
Going forward, always make sure you use the right grout and tile cleaner to avoid damaging your floor's finish.
How to Lay Bathroom Floor Tiles
Step 1: Mix your Adhesive
Knowing how to lay your new bathroom floor tiles properly starts with choosing the right adhesive for your floor type, from timber to concrete. Once you've picked the perfect match, pour your powder into a plastic bucket with the correct amount of water and mix with a drill and mixing paddle. When it's smooth and lump-free, you're ready to get tiling.
Step 2: Find your Centre Point
For accuracy later on, the first tile you lay should always be the most central. So, for starters, measure your bathroom floor's width from all four walls, and mark the very middle with a pen. Before putting any adhesive down, lay out a strip of tiles from this middle point side by side until you reach the wall – leaving a tiny gap in-between each.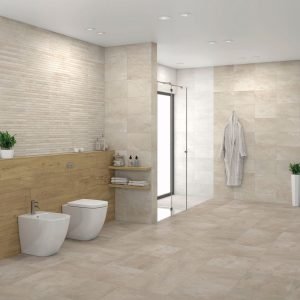 Step 3: Space Out your Tiles
If your tiles reach the wall neatly, then you're good to go. If not, they'll need to be cut to fit. To work out how, you'll want over half a floor tile's width between the last tile you lay and the wall. If the gap is smaller, shuffle your row back towards the centre until there's enough space. Then remove the row of tiles except the one in the middle of the room, and re-stir your adhesive.
Step 4: Add your adhesive
Scoop up a small amount of adhesive with your trowel and place it underneath where your first tile is going. Then smooth it down a bit and press the tile down firmly onto it. Repeat the process (adhesive then tile) until you reach your bathroom wall gap – putting spacers in-between each floor tile to leave room for the grout later.
Step 5: Keep It All Level
The last thing you want is a wonky bathroom floor, so once your first row is done – it's time to check it's straight. Place your spirit level on the row of tiles, working along one tile at a time. If any of them are too high, place a small piece of wood over the top and give them a gentle tap with a rubber mallet. If they're too low, lift the tile up and add extra adhesive until it's level again.
Step 6: Cut your Tiles to Fit
When you've almost reached the wall, it's time to trim a tile to fit the gap you've left. Measure the space to the wall (allowing 5mm for your spacer) and draw a cutting line on your tile with a ruler and pen. If you're willing to invest in a tile cutter, it's a simple job to trim your tiles to size. Otherwise, use a tile scorer to scrape a deep line repeatedly along where you've marked, then place your pencil underneath the line and use to snap the tile into two neat pieces.
Step 7: Work Outwards to the Wall
Take your tile piece and make sure it fits neatly into the space, then add the adhesive and lay it just like the rest. Repeat on all sides, working out from the middle until you've covered as much of the floor to the walls as you can. As for how to lay floor tiles around your bath, basins and toilet? That's another challenge.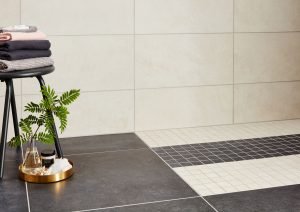 TOP TIP: Before moving on to tackle tiling round obstacles, it's best to leave your current tiles to set. Most adhesives will need a full 24 hours to dry before it's safe to move on. But don't forget to take all your spacers out about 30 minutes after the adhesive to dry.
Step 8: Make a Paper Template
There's a simple way to create the perfect shape to fit round any obstacle, and all you need is sheets of paper, cut to the same size as your bathroom floor tiles. Placing the paper where your tile should go, cut lines in it to help it flex up the side of your obstacle, leaving a crease where it meets the floor.
Step 9: Cut your Tile to Template
Now, with your pencil, you can trace and cut along that crease to create an exact paper template to fit round your obstacle – whether it's the base of your toilet to the base of your basin. From there, it's the same process as before – using a pen to mark out the cutting line on your tile. Except, this time, you won't be cutting a straight line. So, instead of a tile scorer, you'll want to use sharp cutting pliers (also known as tile nippers) to slowly break off small pieces until it's cut to the right shape.
Step 10: Repeat for all Obstacles
Once you've got your finished tile, give the cut side a sand and wipe down to make sure it's as smooth as the rest – then lay it in place with spacers and a scoop of adhesive exactly like before. Rinse and repeat for your other bathware until the whole floor is successfully tiled, then leave that to dry for up to 24 hours too – remembering to remove the spacers after half an hour again.
Step 11: Pick your Perfect Grout
Last but not least, it's time to start grouting. From decorative to water resistant, there are many different types of bathroom grout, so it's essential to pick the type that's right for your tiles, floor and environment. If you're not sure, we're more than happy to help. Just like the adhesive, you'll need to prepare it before you start – so get mixing!
Step 12: Grout around your Tiles
When it's ready, use a rubbed-edged squeegee to scoop grout onto the edges of your tiles and press it into the cracks to seal all the joins. For ease, it's best to work on small sections of tiles at a time, as it means you can run a grout rod along your tile's edges to create a smooth finish as it starts to harden, before wiping away excess grout with a damp sponge after 15 minutes.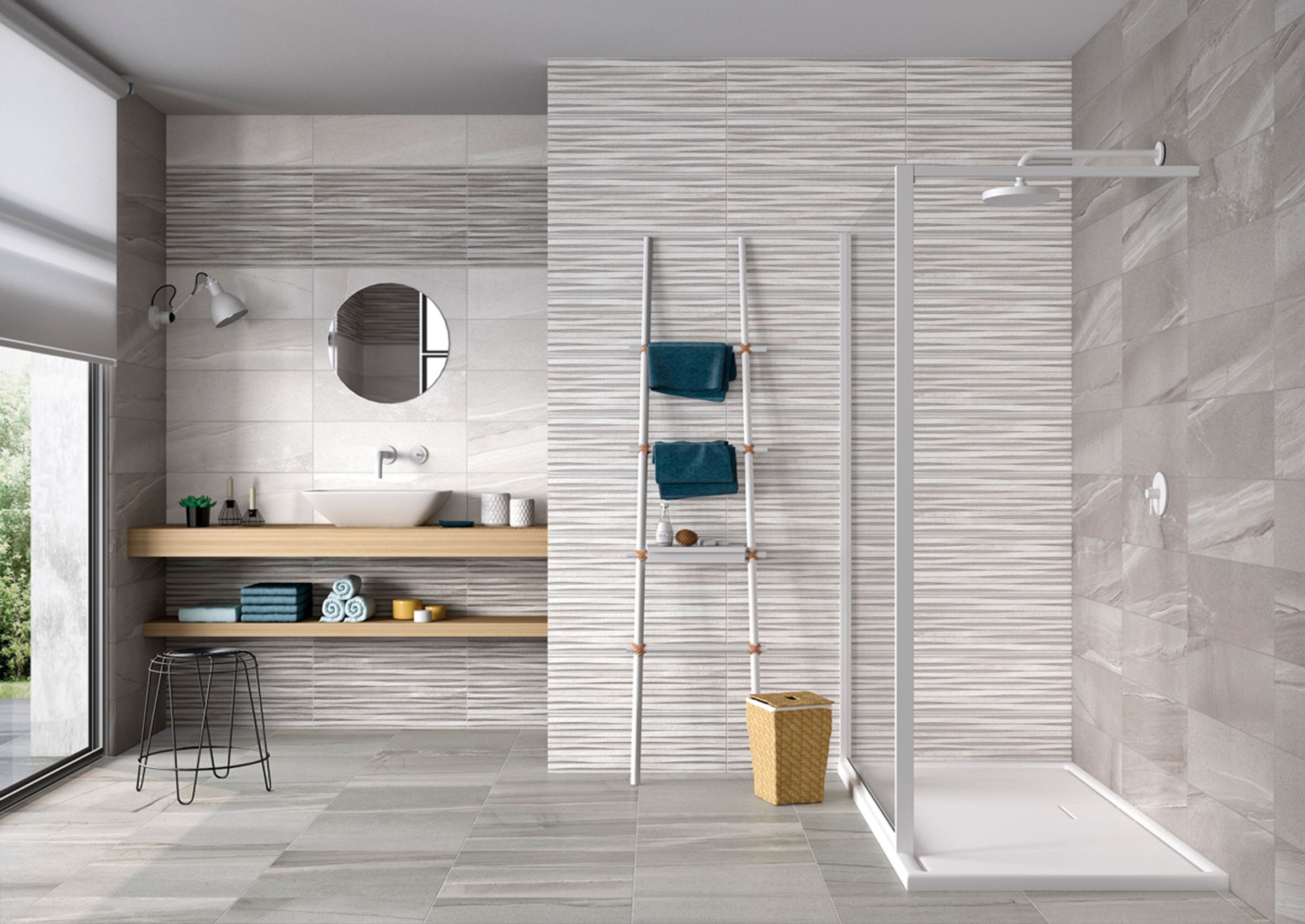 Step 13: Clean your Floor Down
Working section to section, keep grouting, smoothing and cleaning off the tiles until the whole of your bathroom floor is grouted. Leave the whole thing a further hour or two, then buff up your bathroom floor tiles with a dry cloth for a shiny finish. Then all that's left to do is stand back and admire your hard work.