What is a bath shower screen?
A bath shower screen is a glass panel that acts as a barrier between your bath shower and the rest of the bathroom. It's a more permanent fixture than a shower curtain and stops water from getting everywhere when you're having a shower.
Just like bathtubs, bath shower screens come in a variety of shapes and sizes, including:
Straight: A single panel that fits along the edge of a straight bath.
L-shaped: A straight panel that has a short, perpendicular panel at the far end, to create an enclosure that fits neatly over the edge of an L-shaped bath.
Curved: A curved panel that fits over a p-shaped or curved bath.
Folding: A panel that is divided by hinges in the middle that allow it to fold inwards or outwards.
Sliding: A panel long panel that extends across the length of the bath and has the ability to be slid back to about half the original length.
Sometimes shower enclosure doors or panels are called 'shower screens' – for tips on what sort of shower enclosure shape will work best for your bathroom, check out our shower enclosure guide.
Which shower screen is right for me?

The bath shower screen that suits your bathroom will depend heavily on the shape of your bath and the overall look you want to achieve in your space.
Choosing a shape and size
The shape of your bath shower screen obviously needs to suit the shape of your bath, as well as how you use your bathroom.
Straight bath shower screens
Straight bath shower screens can be fitted on straight or L-shaped baths, for a simple and minimalist finish. They're a great, fuss-free solution for bathrooms that need to accommodate children or people with accessibility needs.
A long screen can add a touch of luxury and extra splash-proofing to a family bathroom, while a shorter screen works well if you have a small layout.
Folding bath shower screens
Folding bath shower screens can be fitted on to straight and L-shaped baths and come in both inward and outward folding designs. Small bathrooms will benefit from an infold shower screen, as it will save space when getting in and out of the bath.
Sliding bath shower screens
Sliding bath shower screens can give a luxury touch to your bathroom, allowing you to incorporate a screen that extends across the length of your bath, while the sliding functionality makes it easy to access without compromising on space.
Curved or L-shaped shower screens
Curved or L-shaped shower screens are designed to perfectly fit over your curved or L-shaped bath, giving your space a bespoke finish while ensuring it stays dry and clean.
Bath shower screens are available in a selection of different finishes, so you can find a style that suits the overall theme of your bathroom design.
Transparent bath shower screens
A transparent bath shower screen is just a simple panel of transparent glass. The most common style of bath shower screen, it's a perfect solution for modern and traditional bathrooms alike.
As it allows light to pass freely throughout the room, a transparent bath shower screen will help to make your space feel bright and open.
Mirrored bath shower screens
A mirrored bath shower screen has a mirrored finish on the outward-facing side, for additional privacy. Great for small layouts thanks to its dual functionality, it acts as both a mirror and a bath screen and can help to make the space feel larger by reflecting light around the room.
Frosted bath shower screens
A frosted bath shower screen is translucent, meaning you can't see through it completely but it's not completely solid either, still allowing some light to pass through. It's a perfect option if you want to add a bit of privacy to your bath shower while still having an airy feel.
Installing a bath shower screen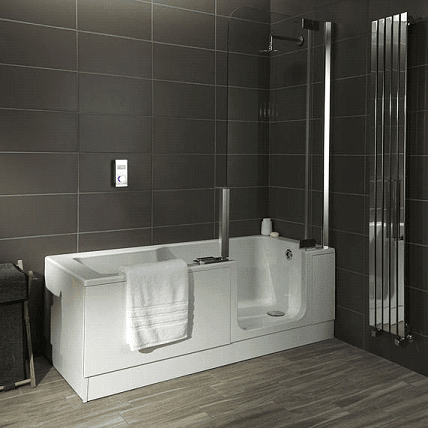 Bath shower screens fit over the edge of the bath and are secured to the wall. They come with a variety of parts, including:
The actual bath shower screen, which is a large glass panel
A bracket for the edge of the screen that fits against the wall, to secure the screen to the wall
A seal that fits along the bottom of the screen, to prevent water from seeping through between the screen and the top of the bath
Brackets, screws, joints, and clips, to secure the screen and the seal to the panel of glass
All bathstore bath shower screens come with installation specifications, and if you have basic DIY skills, you may be able to fit a bath shower screen yourself. You'll need a drill, spirit level, caulking gun and silicone, hammer, screwdriver, and measuring tape.
A shower screen is an essential piece for your bathroom, promising to keep it dry and safe while also enhancing the overall theme of your space. For more tips about choosing the right shaped bath for your layout, check out our handy guide or visit your nearest showroom to explore the options up close!