Whether you're fixing a leak or just giving your bathroom a luxurious new finish, refreshing your bath seal is one of the simplest but most stylish shortcuts to a better-looking bathroom. What's more, it's also extremely straightforward, meaning it can be done in afternoon – no matter your level of DIY skills. And we're here to show you how with our step-by-step guide to sealing a bath.
What you'll need: 
Safety gloves
Safety glasses
Masking tape
Safety knife
Caulking gun
Silicone bath sealant
Silicone applicator
How to seal a bath 
Step 1: Prep your bath seal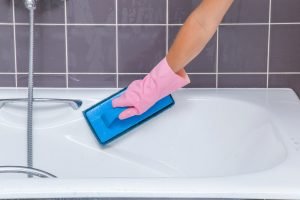 Firstly, there's a good chance you'll need to remove your old bath seal first. Any traces of old silicone can stop the new stuff sticking as well, meaning it's best to scrape them off with a palette knife. Similarly, wiping down the edges of your tub with a cloth and some cleaning spray before you start adding a new bath seal is also a good idea for removing any dust or grease.
Step 2: Tape up the bath
Just because you're using silicone as your bath seal doesn't mean you want to get it on your walls or tiles too – and masking tape is a quick and simple way to make sure you won't.
Starting from the back corner of your bath – lay a strip of tape about 3mm above your bath's edge, followed by one along the bath itself. This should also be 3mm from the edge to ensure a neat line for your silicone. After all, there's no point in learning how to seal a bath if the finish is wonky, is there?
Step 3: Open your silicone
With your gloves and glasses on, use your safety knife to slice open the silicone, always cutting away from your body. Before you attach the head of your silicone, cut off the tip at a 45-degree angle. This will ensure a good flow of silicone when you start to apply your bath seal, giving you the best results.
Bend the silicone bottle head, so you can get your sealant as close to the edge of your bath as possible, then load it into the caulking gun.
Step 4: Apply your silicone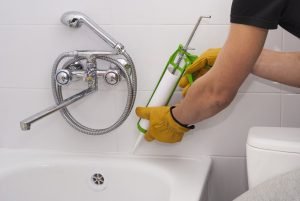 Next, it's finally time to start creating your bath seal. Starting in the furthest corner so you don't smudge any new silicone when you lean over the bath, squeeze the trigger of your caulking gun and apply your silicone down the length of the bath in one fluid motion.
Step 5: Making it neat
Using the edge of your applicator or a smoothing tool, smooth down the silicone edge along your bath as you go. Once your first layer of silicone is down and smoothed, and you've gotten to the far end of your bath seal – you're free to add a second layer to fill in any missed air gaps. Just remember to press down firmly all the way round again.
Step 6: Take the tape off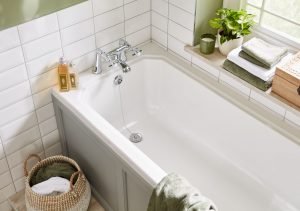 If you let the silicone dry before removing the tape, you run the risk of pulling the silicone off with it. Instead, peel your tape off before it dries, pulling away from the wall.
If you're wondering how long to wait before unveiling your new beautifully sealed bath, we recommend leaving it about 24 hours – then you're free to enjoy a well-earned soak!