Whether your bathroom design is traditional or modern, one thing's for sure – a freestanding bath will make an impressive style statement. Standing alone, rather than against a wall like a traditional bath, fitting a freestanding bath is a slightly different process to installing a bath connected to the wall – so, we've put together a simple guide to help ease you through it.
What you'll need: 
Bath waste, trap and pipework 

Drill

Adjustable spanner

Adjustable wrench

Silicone sealant

Stanley knife

Spirit level

Screwdriver

Pencil

Tape measure
What is a freestanding bath?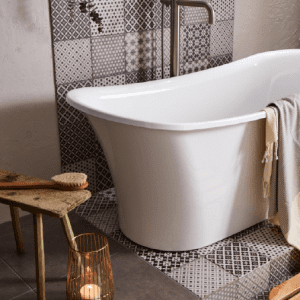 Rather than nestling against a wall in your bathroom, a freestanding bath is set slightly away from the wall or sits in the middle of a room to give your bathroom the wow-factor. From classic cast iron roll top baths with claw feet and elegant slipper baths to ultra-contemporary stone freestanding baths, the choice of shapes, sizes, finishes, colours and styles is vast. There really is a freestanding bath to suit homes of all styles.
What do I need to think about before fitting a freestanding bath? 
Freestanding baths make a fantastic style statement in a bathroom. While they aren't particularly difficult to fit, there are a few things worth considering before you invest in one. After all, there would be nothing worse than having your dream bath delivered to find that it won't fit or your flooring isn't suitable.
Do I have enough space for a freestanding bath?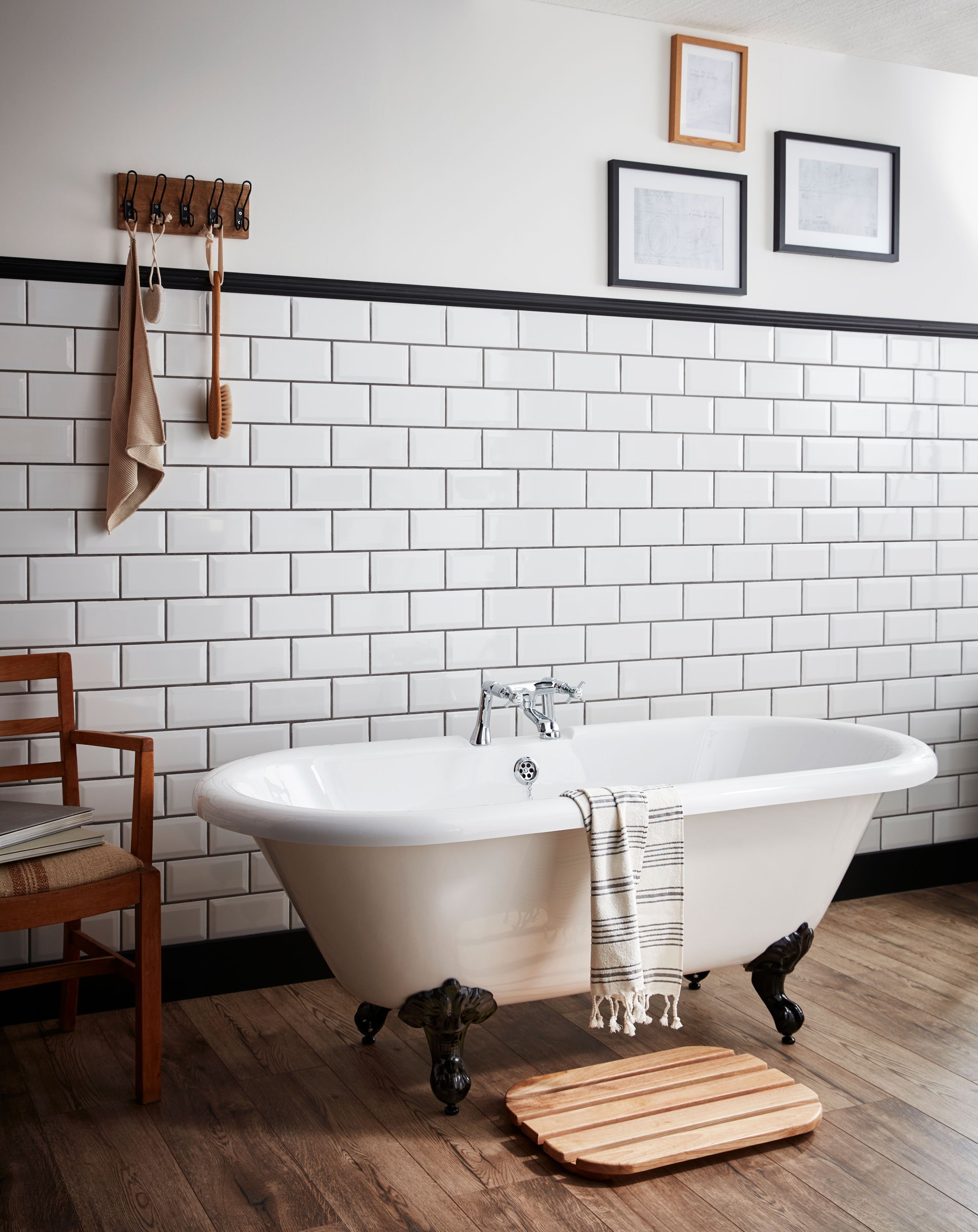 You may be happy that your bathroom dimensions are sufficient and that you have the floor space to accommodate a freestanding bath. It's also worth checking that your stairs are wide enough and you have enough room to carry the bath through the house without damaging it or your house. As you can imagine, freestanding baths are often very heavy, so make sure you have enough people lined up to help you, too!
Is my floor strong enough for a freestanding bath?
As freestanding baths are often larger and heavier than standard baths, you need to check the maximum weight that your floor can take. Don't forget, you will need to calculate the weight of the bath when full of water (one litre of water weighs one kilogram). Make a note of the capacity of the bath you've chosen to calculate its total weight. 
If you identify any loose or rotten floorboards, these should be mended or replaced at this point to prevent future problems. It's much easier to remedy this now than once your bath is in situ.
Is my bathroom floor level enough for a freestanding bath?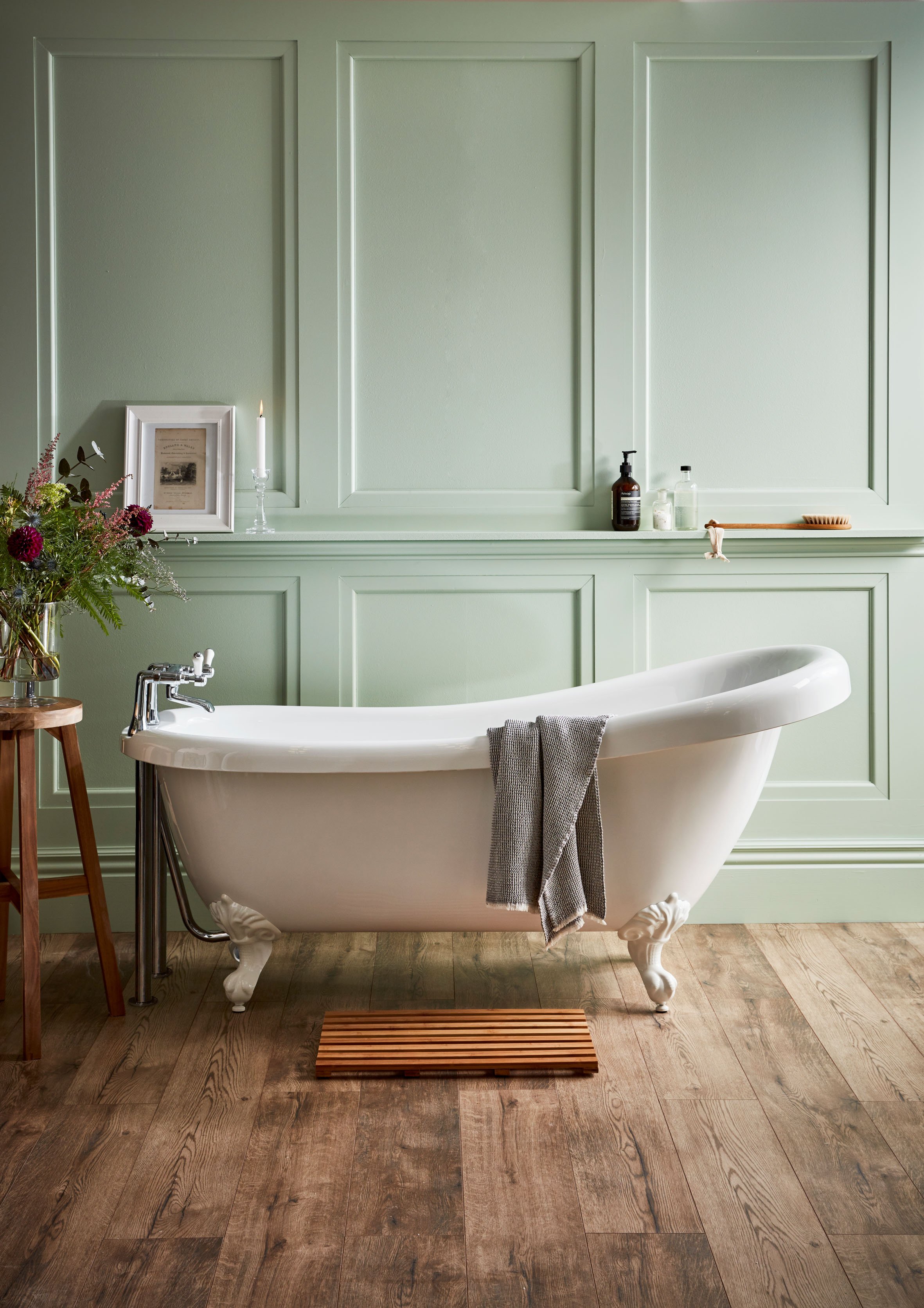 Once you're happy that you have sufficient space and a strong enough base to stand your bath on, you'll need to check that your floor is level. If it's not level, this will spoil the aesthetics of your stunning new freestanding bath. It also makes it impossible to seal if your bath doesn't fit flush to the floor. So now's the time to get the floor properly prepared.
How to go about fitting a freestanding bath
Step 1: Stop your water
 When you're ready to plumb in your new freestanding bath, the first step should always be to turn your water off at the stopcock.
Top tip: We recommend unpacking your freestanding bath fully once you've got it, as it's always best to spot any damage or faults now rather than halfway through installation.
Step 2: Attach the feet
If your freestanding bath has feet, this is the point where you need to fit them and make sure they're level. Turn your bath upside down and attach the feet while making sure your bath is fully supported.
Top tip: Resting the bath on clean, doubled-over dust sheets or a blanket is a great way to protect the rim or roll top from scratches or damage.
Step 3: Preparing for the pipework
If your bath is being fitted in a new part of a bathroom to your old bath – where the pipework previously came directly out of the wall – your pipes will need to be re-routed. Next, mark out the position on your floorboards before you drill the hole and lift your floorboards. If you've opted for freestanding taps, double check that they will comfortably clear the edge of the bath, giving you enough room for cleaning, too.
Top tip: Freestanding baths often make this part of the job easier. As they sit away from the wall, the pipework often becomes a design feature so you don't have to worry about boxing it in or hiding it away. There are a range of freestanding taps available, too, which are a perfect complement to standalone baths.
Step 4: Test for leaks and connect the pipes
Re-activate the water supply and check your pipes are free of leaks before you re-lay the floor. This will save a great deal of stress once your bath is in place. Now, connect the pipes and install the bath waste and trap. You may need to involve a plumber in this stage to make sure everything is properly connected and ready to go.
Step 5: Seal it!
If your freestanding bath fits flush to the floor, like this Pure Freestanding Bath, you will need to use silicone sealant to create a waterproof seal. This will protect your bath and the floor underneath it. Remember to leave this sealant for 24 hours before filling your bath to make sure it's set properly.
Step 6: Clean up
Now all that stands between you and a luxurious soak in your new freestanding bath is giving it a good clean to remove any dust or dirt. Make sure you refer to the instructions for your particular bath. Also use the correct cleaning solutions and cloth to avoid scratching the surface.
Step 7: Fill it up!
Congratulations! Now you've completed the fitting of your freestanding bath. All that remains is for you to choose which bubble bath you're going to use…