You'll notice the kW (kilo-watt) rating mentioned whenever you're browsing potential new showers. This relates to both the power and pressure of the water flow.
Power showers work by running your cold water supply through the system, and then quickly heating the water to the desired temperature before it flows through the showerhead.
To enable the shower to reach higher temperatures, it needs more time to heat up, and will therefore slow down the rate at which the water flows through. Shower systems with a higher kW are able to maintain these higher temperatures while simultaneously keeping the pressure high.
Which power shower wattage can I have in my home?
Your home water supply and electrical set-up will help dictate the type of power shower that best suits your bathroom. Generally, you'll be able to tell which wattage will work best for you by the size of your water tank and how reliable water flow is throughout your home:
5kW or 8.5kW electric shower: If your water supply is a little on the unreliable side, or you only have a small water tank.
8kW or 10.8kW electric shower: If you're lucky enough to host a large water tank and have not encountered any difficulties with water flow in your home.
You also need to factor in your fuse set-up and check whether it has the right number of amps to comfortably host your power shower. If you don't have this information at your fingertips, we recommend enlisting the help of a plumber or electrician for professional advice.
Once you've worked out the technicalities, you can decide whether you want to upgrade your water supply system or fuse set-up or make use of what you already have.
Finding your perfect power shower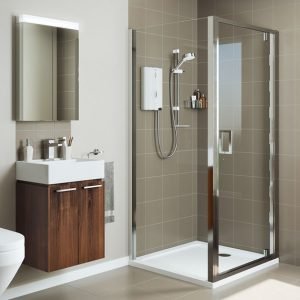 Regardless of what shower system your bathroom can handle, there are plenty of attractive options that will make your showering experience feel luxurious. Modern power showers also come with a variety of special features, and so you may want to factor this into your decision.
The Mira Sport 7.5kW electric shower will deliver hot water on demand, even in the busiest of households. Its multifunction showerhead allows you to easily to switch between a light drizzle and a more powerful blast, making it ideal for larger households with multiple users.
If you're looking for a more powerful model, the Mira Alero thermostatic 9.8kW black electric shower is the perfect blend of performance and modern design. The thermostatic function means you don't have to worry about the temperature fluctuating if a washing machine or another tap is in use elsewhere in your home.
You can do your bit for the environment (and reduce your water bills) with the Mira Sport Max 10.8kW. Its Airboost function increases water droplet size, which uses less water and still gives the feeling of a powerful, enhanced flow.
Determining which type of wattage will work best in your home is relatively easy with the right know-how, and it'll help you choose a power shower that delivers an invigorating experience every time.