Between the kids coming and going, the morning routines and the long evening soaks in the tub, it isn't surprising if your bathroom is beginning to look a little neglected in the design area. Even the most stylish space struggles to survive against years of persistent use.
So if you're feeling a tad disheartened with the state of your bathroom, then we've got ten top tips to help you spruce it up!
Scrub that tub!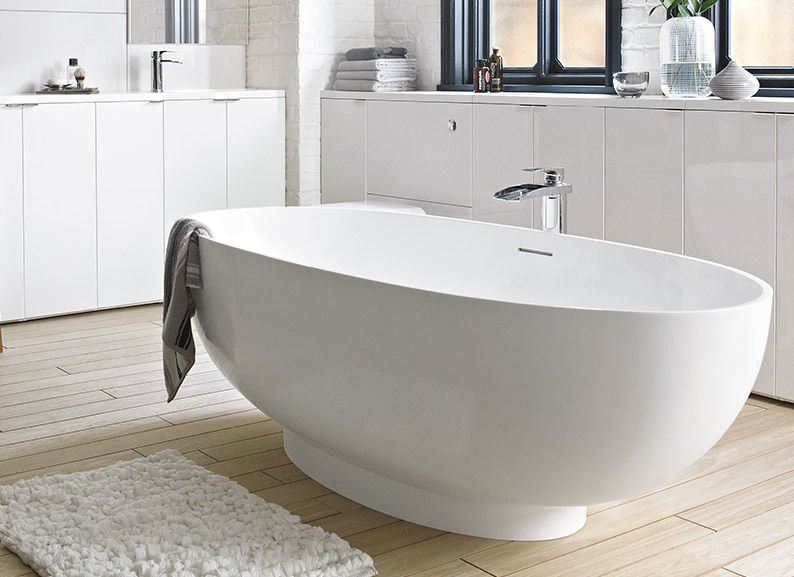 We're going to be open and honest here, but when it comes to a swift revamp of the bathroom the first port of call is to don the Marigolds, roll up those sleeves and grab a sponge. We don't mean to sound like Kim and Aggie, but sometimes a good clean is all your bathroom needs to release a new lease of life.
That said, there are those times when a quick end of the week wipe down isn't enough to tackle stubborn soap scum, lime scale build-up or the mildew that's steadily taking over the tiles.
Transform your décor
If the walls are looking a little past their best, then it might be time to revisit the décor. A lick of bright paint is a simple way to revitalise your space making it feel fresh, clean and airy.
Have you got your creative head on? Then go for something bold and stylish like a feature wall, to completely transform the room. Mosaic tiles are a lavish option if you've got cash to splash, but otherwise a bold coloured paint will make a nice backdrop to your tub.
Picture this
If the very idea of reaching for a paintbrush fills you with an overwhelming sense of dread, then worry not. A quick and easy way to add a touch of creativity to your bathroom is by brightening up the bland walls with a collage of pictures.
Wall art provides a quicker alternative way to inject some personality into your bathroom. You can either invest in some colourful screen prints or select some vintage posters, or even a selection of family photos, to frame and hang on the wall; opt for frames of various sizes and pictures that are landscape and portrait to create a crazy-paving style collage effect.
Cut down clutter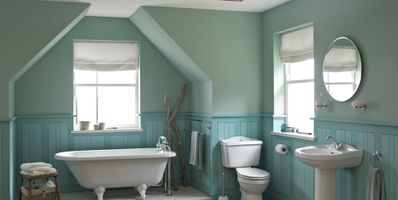 Those gunged up bottles of conditioner, that weird smelling bubble bath your Great Aunt Doris bought you for Christmas, that tatty sponge and that grubby slither of a bar of soap… Detox your bathroom, and get rid of all the rubbish that's been there for so long they've almost become a permanent fixture.
Be ruthless. If you've got any near empty bottles that haven't been touched (apart from being accidentally knocked over) in the past six months, then it's time to get rid. If you're sure you'll never use the bubble bath that Great Aunt Doris gave you, then take it to a charity shop, or wrap it up and give it to someone else as a present.
Spruce up your storage
When it comes to interior design, there's one thing that continues to be a major sticking point: storage. This is particularly true in the bathroom, where space is often limited, but a little creative thinking can kill two metaphorical birds with one stone.
There are lots of ways to make a feature out of items in your bathroom, if you don't have clever cupboards to discreetly hide everything away. Spare loo rolls can be arranged nicely in a basket or on a shelf to make stylish addition. Roll up your towels and stack them neatly in a pyramid for a spa-like design aesthetic.
As for all those cosmetics and accessories, these can be transformed into a stylish solution, too. Storage jars, terracotta plant pots or some cute coloured dishes can hold fiddly small items such as cotton wool and cotton buds, whilst also adding a touch of style to the space.
Paint the ceiling
So often, when it comes to decorating, ceilings are a little neglected. More often than not it's a case of stirring a huge tub of white emulsion and liberally applying it to the ceiling. But if you're going for something a little more interesting, why not leave the walls a simple, clean fresh colour and give your ceiling a stylish makeover?
A bold colour and some wall stencils are a good call, particularly if you're on a budget (and if painting shapes with a steady hand isn't your forte). If you fancy yourself as the next Michelangelo, then why not create your own masterpiece with a cloudy sky, beautiful landscape or anything else your creative mind can muster?
Accessorise!
So this is a fairly obvious one, but if you don't have the time to decorate (or if you just don't fancy it) then replacing the clutter and old shampoo bottles with some stylish accessories can go a long way to making your bathroom seem a little less drab.
With spring just around the corner, dress up the window sill or shelves with some fresh flowers or a potted plant. Invest in some pretty coloured glass vases, bottles or bowls and arrange them to add a splash of colour to the space. Glass bowls filled with water and floating candles are a great idea if you want a spa-like space.
Invest in pretty products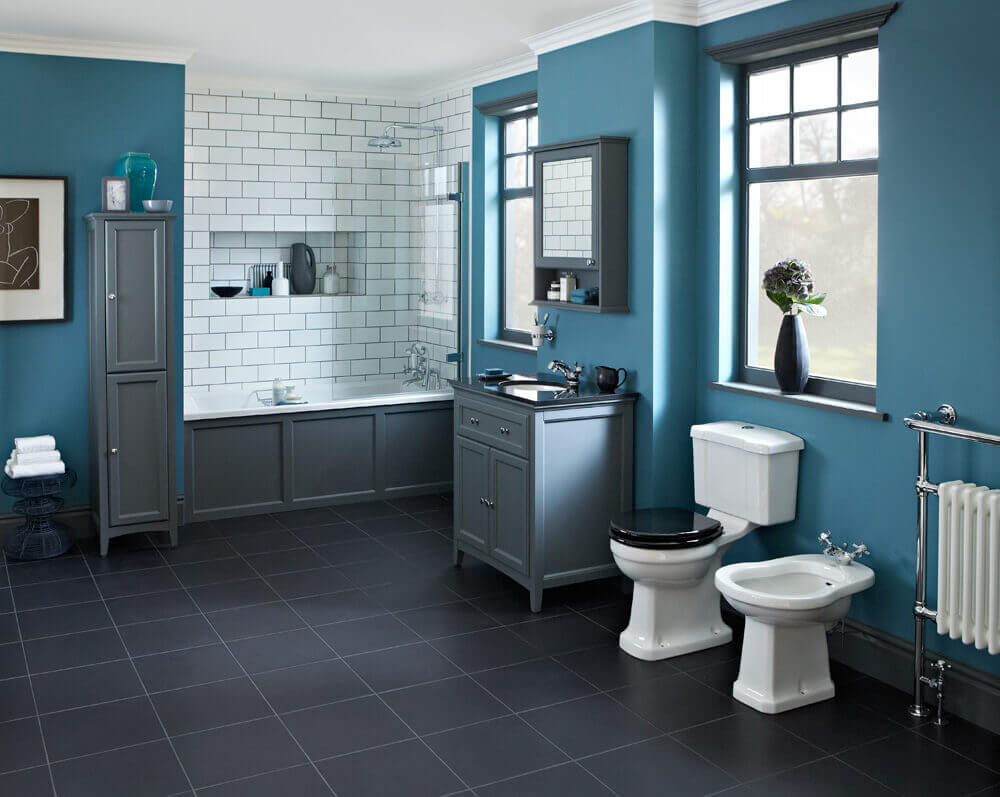 Want to give your bathroom a swift upgrade? Invest in some expensive toiletries, designer shampoo and posh looking bubble bath to get an instant five-star feel. The pretty packaging of more expensive products adds a stylish touch that'll make you want to display your bath products with pride.
Don't worry if you can't justify splashing your cash on expensive products, you can still use your regular soaps, shampoos and products whilst having the fancy stuff on display!
Alternatively, you can add stylish finishing touches with matching accessories, such as a toothbrush holder, soap dispenser, towel rings etc. which will also go a long way to help clear up the clutter around the sink.
Interested in bathroom accessories? We've got you covered! Click here to visit our bathroom accessories page.
Textile replacements
Again, if you don't fancy battling the décor, then this is a quick and easy solution that can breathe new life into your bathroom. If your curtains and blinds have seen better days, or if they've got a blinding pattern that's certainly off-trend, then it's time to tear them down and invest in a swanky new replacement.
You might have a shower curtain that's looking a little tatty; maybe it's time to shop around for a new one. It might even be time to replace your towels – if the pile is wearing a little thin and even picking them up feels like they might dissolve there and then in your hand, then think about replacing them with some fluffy new ones.
Add a touch of fragrance
Nothing gives a fresh, clean sensation of a newly spruced up bathroom quite like a hint of fragrance (we're not talking about blasting half a can of air freshener into the room and shutting the door). Incense sticks in a simple jar give off a subtle fragrance, and look pretty too.
Scented candles are always a good option – particularly if you want a more luxurious feel to your space. Arrange some scented candles of different sizes to make a stylish accessory, and light them when you fancy escaping the world for a long relaxing soak in the tub. Oil burners are an equally spa-like addition, especially the more ornate ones which can double up as an accessory too.