Many bathrooms are built without windows or a lot of natural light. To combat this, there are a few ways of brightening the place up without the need for a big refurb! Take a look at our quick and easy tips for transforming your dark bathroom into a light and airy haven!
Scattered lighting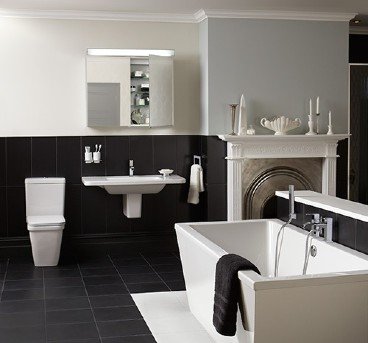 A common mistake, which results in emphasising your bathroom's dark spots, is having one single source of light in the room. This casts shadows in all the places you ought to be shedding light and, ultimately, makes your room look smaller.
Scatter lighting around the room to brighten all those corners and floor spaces that are prone to shadows – you can start by distributing lights across the whole ceiling.
Wall lights around your cabinet or a mirrored cabinet will work wonders in visually expanding the footprint of the room, while lighting around the mirror will have the added benefit of aiding your morning makeup/shaving routine.
You may also want to invest in a sun tunnel. Suitable for both flat and pitched roofs, sun tunnels will help you bring natural light into a windowless bathroom, even if there is up to six metres between the ceiling and the roof!
Mirrors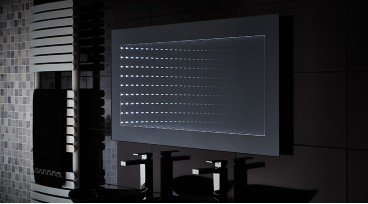 Mirrors are a really simple way of increasing both how big and how bright your bathroom looks. A small trick that will have a big impact on your dark bathroom is having a very narrow frame on your mirror, maximising the effect it has on the room.
Illuminated mirrors are about as good as you can get for brightening up the room. Whether you choose bright panels or softer lighting options, these will help you enhance the light in your bathroom.
Tiles
Gloss or mosaic tiles will provide an extra-shimmery surface which will help shed more light in the room. They are also an excellent means of introducing colour into your bathroom décor, providing two design solutions in one.
These tiles can go on the walls, the floor, or even both, if you want to really help the light spread.
A lightbulb moment
Choosing the right light bulb can make a world of difference in your bathroom. With the advent of energy-saving bulbs (such as LEDs which use up to 90% less energy than regular bulbs), brightness is measured in lumens rather than watts, so see if you can invest in some with higher lumens to cast a bit more light.
Think about what colour you're looking for too. Light bulbs are rated on the Kelvin scale for their colour, so if you want a warmer glow, look at the lower end of the scale, whereas the other end will give a bluey light. Having a bulb around the middle will help to brighten the room, so take a look at where your existing bulbs fit. LED bulbs are available in a variety of colours, so you can pick your preferred tone for your bathroom.
The shape of your bulbs may also have an effect. Globe bulbs have an overly-rounded surface, so will spread the light around more, whereas candle bulbs give a more fixed direction to the light they omit. Consider what effect you want them to have when picking the shape that's right for your space.
All white on the night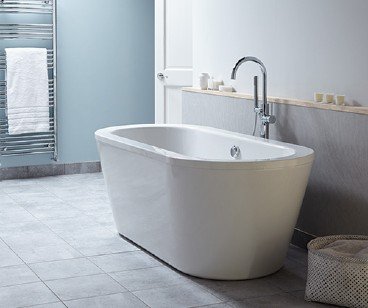 White surfaces will help any light really bounce around the room, illuminating as wide a space as possible. Even if you're picking an accent colour for your fittings or décor, try to keep the room as white as you can to help the light spread.
A white ceiling will really help to contain all the light, and glossy white tiles will make the walls and floor shimmer with light. If you are picking an accent colour, having a stark contrast between light and dark shades will help to emphasise all the bright areas in the room.
This could work really nicely as an accent wall in either a bright colour pop shade or a dark earthy tone. You could also try having patterned tiles around the basin or above the bath to draw attention to your fixtures.
Metallic or shiny accessories will reflect the light brilliantly; gold or silver accents on your fittings will do the trick perfectly.
For many bathrooms, natural light can really be lacking, but there are a lot of tricks you can try to effectively brighten up the space. Try out a few of these tips and you'll soon notice the difference in your dark or windowless bathroom!