If you've got a bathroom that's a little limited on space, then don't worry. In fact, it's a common problem here in the UK, given that most bathrooms tend to be a bit on the small side. When it comes to basins, you'll want something that's large enough to be practical, but small enough to not overwhelm the room.
Thankfully, we have a number of tips and tricks to get the most out of your space…
How much space do you have?
We can give you all sorts of advice when it comes to choosing stuff for your bathroom, but if we had to give you just one, it would be to measure your bathroom before you do anything else.
Knowledge is power, and that couldn't be more the case with your bathroom. Don't get caught in the trap of buying fittings and hoping you can shoehorn them into the space. Knowing how much space you've got to work with in the first place can save you a lot of time and stress in the long run.
(Trust us, there's nothing more distressing than finding your beloved basin is too big for the space.)
If you're looking for a new basin for your bathroom, but you're not really sure where to start, check out this article in our basins buyer's guide.
Don't limit your design
A common misconception is that if you're limited on space, you're limited in style and choice too, but this isn't the case. As many bathrooms in the UK tend to be on the petite side (and lots of people have small downstairs loos or en-suites), smaller basins aren't hard to find.
This means you don't need to settle for something bland, even if your bathroom is less than generously proportioned. Whether you're going for a design that's so cutting edge it could be an avant-garde art installation, or a traditional, vintage aesthetic, you'll find that there's a space-saving basin for you.
Love those corners
Don't save your bathroom corner for a potted plant or laundry basket. If you're really pushed for space, then a right-angle corner is the perfect spot for a space-saving basin.  Corner basins are a great use of the space that might otherwise be used for the aforementioned pot plants (or a pile of dirty pants) and give you plenty of practical space, without intruding on the room.
Discover our corner basins here.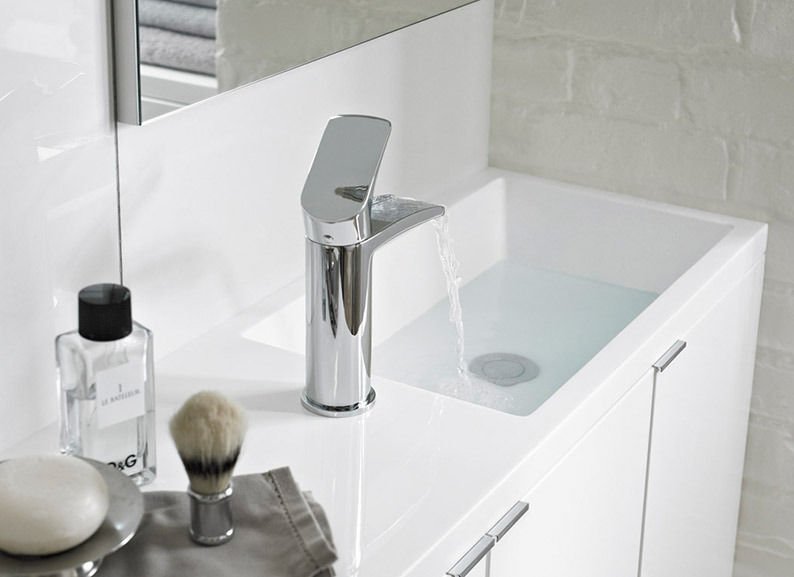 Free up some floor space
If you've got a less than generously sized bathroom, then you can create the illusion of space by opting for wall-mounted fittings. Wall-mounted basins are quite the god send in a small room, as they free up lots of floor space that would otherwise be taken up by a pedestal. Additionally, a semi-pedestal gives the impression of more elevated space, and because they're wall-mounted, they help make cleaning the bathroom a doddle!
Opt for a washbowl instead
As we've said before (and we'll probably say again) don't let your limited space limit your design. In fact, you can really push the boat out and go for a totally new look by fitting a washbowl instead of a basin.
These aren't wall-mountable, but you can make a swanky feature out of them by sitting them on a vanity or drawer unit.
We have written an article to help you discover all there is about washbowls.
Remodelling any bathroom takes a lot of careful planning, but smaller bathrooms have their own set of challenges with space being so limited. With a bit of creative thinking and some forward planning you'll certainly find the right basin for the space.