What is it with our obsession with Victorian bathroom suites? They have been popular ever since the time Queen Victoria reigned supreme way back between 1837 and 1901, but they're enjoying an even larger peak in resurgence today.
Originally built to be purely functional, their pretty, ornate aesthetic has struck a chord with each generation since. It's a style which really helps your bathroom become a focal point, as opposed to being only practical.
So what are the key characteristics of a Victorian bathroom, and what are your options? Well, thankfully, it's a timeless look that lends itself to versatility and can be styled and tailored to appear traditional or contemporary, with an endless amount of choices.
We run through everything you need to design your own Victorian bathroom with some styling hints and tips to get your creative juices flowing; before long, you'll be bathing like it's 1888, albeit a little cosier.
The freestanding tub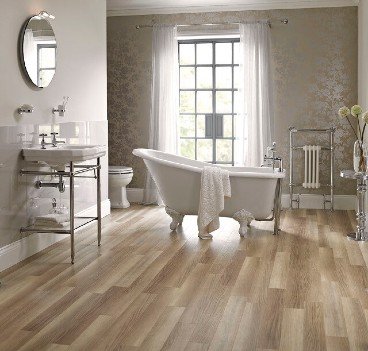 The centre piece of any self-respecting Victorian bathroom is of course the glorious, freestanding bath. Whilst there are several variations, one of the most popular is the slipper bath, which is distinctive in that one end is higher than the other.
The taps will usually be situated at the lower end of the bath, allowing the bather to stretch out and rest their weary head at the raised end for an ultra-comfy soak. Traditional models often come with a classic claw-foot design whereas modern versions do not.
Those who like to bathe in company should opt for a luxurious double-ended bath. With two raised ends and the taps located at the side, the extra depth allows for additional space and comfort should you wish to take a leisurely dip with your loved one, or bathe a couple of kids simultaneously. Alternatively you can go solo and relax in the extra room on offer!
Freestanding tubs come made in a variety of materials, however those that combine acrylic sheets and stone resin offer the perfect combination of comfort and affordability. The thermal quality of this material allows you to soak in a warmer bath for longer!
We have a great variety of freestanding baths here at bathstore. Simply click here to take a look at all of them!
Floors and walls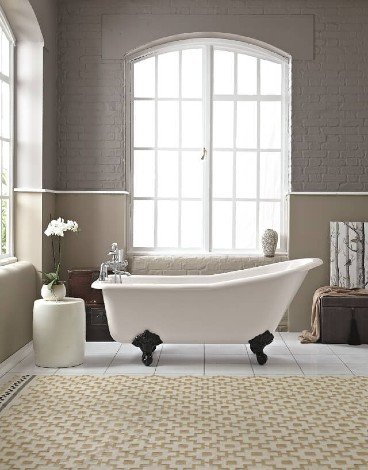 The original Victorian bathroom would usually contain wooden flooring and black, white or neutral walls, so you could try to recreate this look if you are seeking authenticity. The other option is to blend the old with the new and go for tiled walls, which can look great in either modern or traditional styles.
Tiled flooring is often the preferred option today and can be used to great effect to give your Victorian suite a contemporary twist, especially black and white. Smaller, mosaic-style black and white tiles will give your suite a more traditional feel, whilst larger, diamond tiles have a much more contemporary vibe.
If you have darker coloured walls then contrasting white tiles can look fantastic underneath your freestanding tub. On the other hand, if your walls are white or neutral coloured, then darker tiling can work really well and help to focus the attention towards your statement bath.
Basin and toilet
There are numerous basins on the market today which blend the ultra-modern with charming Victorian styling and affordability.
Never underestimate the importance of choosing the right toilet; remember, the devil is in the details! If you'd like to stay true with a more authentic design, opt for a model which comes complete with a high level cistern and chain.
bathstore's Savoy high level toilet is inspired by the original Doulton Waverley closet, which harks back to the late 1800s, making it as authentic as they come.
If you don't like the idea of a traditional toilet, or simply don't have the space to accommodate a cistern at that height, then fear not. A traditional back-to-wall WC can look just as good, especially when topped with a shiny black seat.
All in the details
Whilst you should carefully consider accessories and the right finishing touches in any bathroom, it's even more important with a period suite. Modern taps can look out of place, so try to go traditional with two separate pillar taps that feature the hot and cold detailing.
A Victorian bathroom isn't complete without a pretty, ornate mirror. Whilst you could hunt high and low for an antique, you might be able to save yourself some money and buy an inexpensive model with an ornate frame that is potentially better built to withstand wear and tear.
In terms of additional ornaments, the options are endless; this really is where you can put your own unique twist on your statement suite. Keep it traditional by opting for some vintage signage depicting Victorian products, which can be picked up from thrift stores or online.
If you want to give the room a kitsch twist, show off your sense of fun and pick out a few items which can mock the look of children's toys from the Victorian era!