We think that limited space shouldn't limit your design, and that couldn't be more the case than with a narrow bathroom. One of the best things about having a narrow bathroom is that it presents you with a real opportunity to get creative with your design, creating a truly unique and functional space.
That isn't to say that designing a narrow bathroom doesn't have its own set of challenges, too. From arranging your fittings and sanitary ware, to combating that familiar 'corridor' effect associated with narrow spaces, there's a lot to consider. But with every challenge there's a creative solution.
So if you're scratching your head over how to design your narrow bathroom, here are our expert tips and tricks to ensure you get the very best out of your space.
Change the layout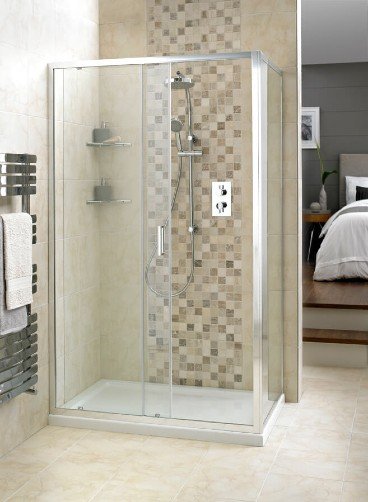 Another good planning tip is to place both your toilet and basin on the same long wall. This creates space along the opposite wall by not only making the room appear bigger, but also leaving plenty of open space for foot traffic, too. When it comes to deciding on the layout, consider the largest item, such as the bath or shower enclosure first in your plan. If the shortest wall in your bathroom is long enough to comfortably fit a bath (or shower bath), this is most likely the best place for it. Placing the tub or shower enclosure at the farthest end of the room both increases the footprint of the room and opens up the space.
Narrow bathrooms can quickly appear cluttered if the fittings are placed all over the room. Having everything along the same wall will streamline the space, making it functional and easy to navigate whilst also appearing less visually 'busy'.
Increase the footprint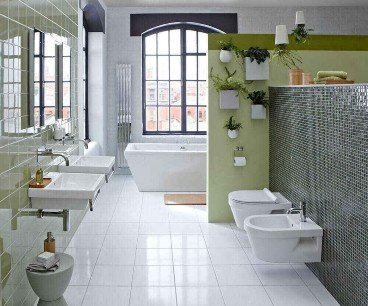 Alternatively, a toilet with a short projection is an excellent choice as this is specially designed to sit well in smaller bathrooms without encroaching on limited space. If your narrow bathroom has alcoves and niches then you might consider using them for your basin, toilet, or both. Again, this ensures they fit snugly in the space without sticking out into the room too much. Opting for a wall-hung toilet and basin is a great idea in a narrow bathroom as they take up a little less space. The absence of the base and pedestal exposes more of both the floor and wall, making the room appear larger. Additionally, wall-hung fittings increase the footprint of the space – giving a little more room to walk around, so the room will feel more spacious, too!
Slimline fittings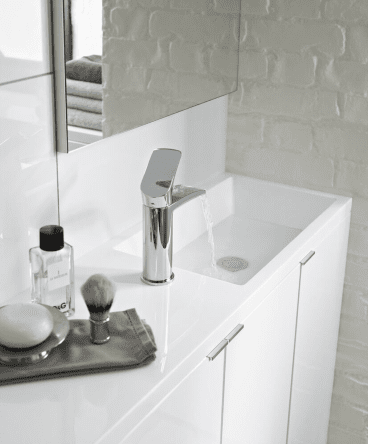 Unsurprisingly, a narrow basin is ideal for a narrow bathroom. The classic design and clean lines of a narrow, rectangular basin make it an excellent space-saving solution, and the low profile means it won't protrude into the space. Despite this, they still have substantial wash area – so you don't have to worry about washing in a thimbleful of water!
A slim-line furniture set combining a toilet, narrow basin, and fitted cabinet can be a compact and space-saving solution that also offers ample storage space. The back-to-wall toilet conceals the cistern, making it a neat and streamlined addition to your bathroom.
Mirror, mirror
This might be an old design trick, but it really does work. Placing a large mirror in the bathroom not only makes the room appear larger than it actually is, but it also reflects light around the room, so it feels brighter, airier, and bigger too.
Placing mirrors at opposite ends of the room can make the space feel less compact and constrained. This is especially useful if your bathroom doesn't have a window or gets very little natural light.
Alternatively, a large centrepiece mirror will make a big, bold statement in a narrow space. As well as helping to illuminate the room, a large mirror makes a great focal point, creating visual flow and preventing the corridor effect by drawing the eye to it and breaking up wall-space.
Create the illusion of space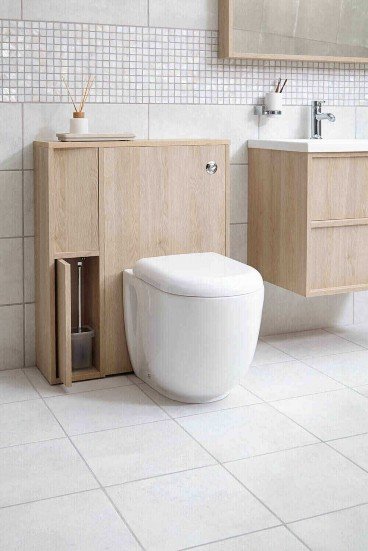 Your décor can really impact how large, small, or narrow a room appears. Light colours are ideal for narrow rooms, as dark or bolder colours can make the space seem smaller and more 'closed in' than they really are. Lighter shades such as pale blue and green or even a soft yellow can bring a splash of colour to the space, without being overwhelming in a tight space.
Creams, whites, and off-whites are also good choices in a bathroom with limited space. Paler shades create the visual appearance of a larger room by inviting in more light; they not only provide a fresh feeling in a small space, but can also have a receding effect on the walls, making the space appear to open up.
Similarly, it's worth thinking about pale and neutral shades for your tiles, too. Glossy tiles will really help to make the room seem brighter, with the gloss acting as a reflective surface helping to bounce light around the room. Neutral tile shades will bring a touch of warmth without being obtrusive and shrinking the space like darker colours could.
Clear out the clutter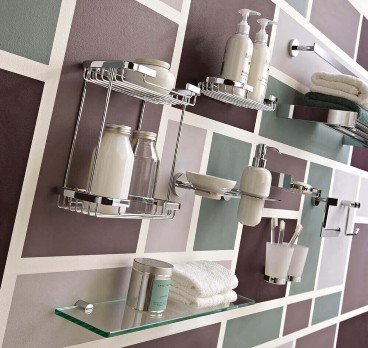 Nothing makes a room seem smaller than having cosmetics, soaps, loo rolls and the rest littering every surface, including the space around the basin, windowsills, shower and bath sides. Cramming lots of furniture into the limited space won't do anything to help the room seem larger, but storage is nevertheless a much-needed consideration for bathrooms large and small.
A nifty medicine cabinet or corner unit can sit neatly in the space and provide a home for make-up, cosmetics and other toiletries that might otherwise reside on surfaces all over the bathroom. A bath or shower basket can help to store shampoo and shower gel in a neat and organised fashion.
You might also consider investing in accessories such as soap dishes and toothbrush holders to keep the area around your basin looking neat and tidy. Without somewhere to store all the products in your bathroom, clutter and mess can quickly accumulate.
An untidy bathroom can really shrink the space, so in a narrow bathroom where space is already limited, it's well worth finding suitable storage, such as a wall cabinet, so that everything in your bathroom has its own place. Mirrored cabinets are an excellent option too, as these can make the room feel bigger whilst giving you some much-needed hidden extra storage space.
A bit of creative thinking and proper planning can be the key to unlocking your narrow bathroom's true potential, from opting for neat and streamlined fittings, to planning a light and bright colour scheme that will create the illusion of space.
Mirrors can make an excellent focal point but also reflect light, helping to make the room appear wider. Wall-hung fittings are an ideal choice to increase the footprint of the room, but if your room has alcoves and niches, these can also be used to prevent fittings encroaching on the space.