In the UK, small bathrooms are incredibly common, with the average floor space limited to less than 3sqm. It might seem challenging to design a bathroom when you've only got a finite amount of space to work with, but using a bit of design savvy, your small space can be both practical and stylish and even appear larger than it really is.
We've taken a look at a number of ways to help make your small bathroom look and feel more spacious. From the décor to storage, we have plenty of tips for you to follow that won't break the bank or result in you whiling away a weekend.
A clean paint job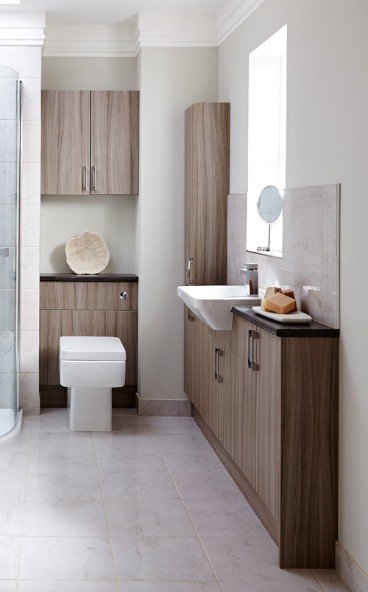 If each wall of your bathroom has a patterned paint job or wallpaper, it can make the room seem somewhat cluttered and crowded. Ditching this décor in favour of clean, simple paint will instantly make your bathroom appear far more spacious.
As for the colours you could use, it's a good idea to choose something light, such as sky blue or pastel yellow. Neutral shades, such as off-white and beige, can work just as well, creating something of a blank canvas which you can build upon, using accessories and furniture to add colour to the space.
If you're looking to create something a little more interesting, then a feature wall is the perfect way to bring life to the décor without being overwhelming to a small space.
Simply choose a wall in the room (preferably a blank wall without doors or windows) on which to create your feature. A bold colour will look striking, or alternatively you might choose to create a pattern effect using stencils or wall decals.
Emphasize your feature wall further and show some creative flair by installing a shelving unit. Here you can display ornaments, artwork, or a striking plant, such as a peace lily or cacti, which tend to flourish in a bathroom environment.
Tiling illusion
To create the illusion of a larger floor space, plain-coloured floor tiles are the ideal solution. It's commonly thought that small tiles in a small bathroom work best to make the space appear larger, however, the numerous grouting lines can, in fact, make the space seem much smaller. Busy, patterned tiles can have a similar effect in a small room, which is why larger, plain tiles with few grouting lines can be a better choice.
Similarly, if you're tiling the walls of your bathroom, plain colours are more effective, since busy patterns, such as black and white check tiles, will make the space feel smaller. Using just one shade is a simple but effective way to make the room appear larger and much less cluttered than patterned tiles.
This effect can be enhanced with the use of mirrors. Having a mirror in a small bathroom will contribute to the illusion of space, and if you have plain tiles around the room then these will appear multiplied, making the floor and wall space look even larger.
Stick to the walls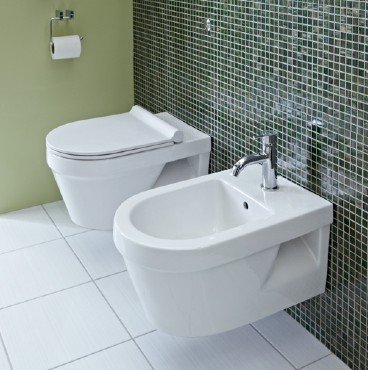 You can make space in a small room with some clever sanitary ware. Back to wall and wall-hung toilets are great for streamlining bathrooms, concealing the cistern and making the space instantly appear far less cluttered. In addition, wall-hung toilets are especially compact by design and can go a long way to increasing the floor space in the room.
It's worth thinking about the effect your fittings and furniture have on the space – anything with a long profile that seems to 'stick out' not only encroaches on the space, but draws the eye to it, causing the room to appear small and cramped.
Slimline fixtures can really come in handy here, taking up a smaller portion of space than regular fixtures while maintaining maximum functionality.
TIP: Hanging your door to open out of the room, rather than into it, will increase the amount of usable floor space in the room!
Clever shower enclosures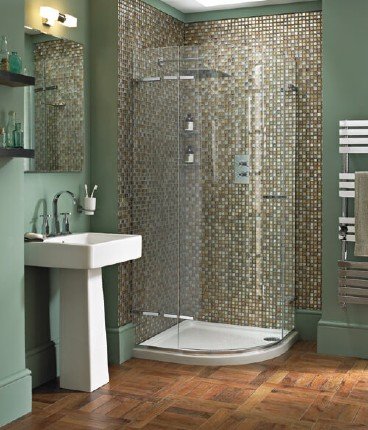 A common problem in compact bathrooms is that there simply isn't enough space for a tub and separate shower enclosure. If you mainly shower, but don't want to lose the option of having a bath, then a shower bath may be an excellent solution. Sitting flush to the wall, a shower bath won't encroach on the precious floor space in the bathroom, while the tub still works as an excellent focal point.
For separate shower enclosures, quadrant shower enclosures or an enclosure with either infold or sliding shower doors are an ideal choice for maximising space in a small bathroom. Infold doors neatly fold in on themselves rather than opening into the room, while streamlined sliding doors slide along rails in the enclosure without encroaching on space, either in the bathroom or the enclosure.
Take a look through our range of shower enclosures to find the best fit for your space.
Hanging on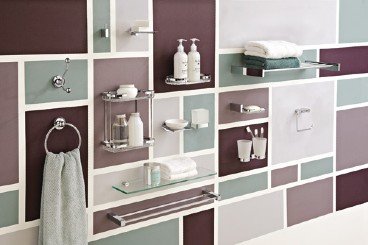 Hooks and rails are a handy way of freeing up room in a small bathroom. Whether they're for towels or clothing, hooks only take up a couple of inches on a wall or door without disrupting the flow of your bathroom's décor. A hook for your heated towel rail is also a space-saving idea, which has the added benefit of keeping your towels warm and fluffy.
Hanging storage for your bath and shower can save loads of space, too. Wire baskets give you ample room to store your soap, shampoo and sponges without impacting the internal shower space.
To find out more about nifty bathroom storage solutions, check out our accessories buyer guides.
Savvy storage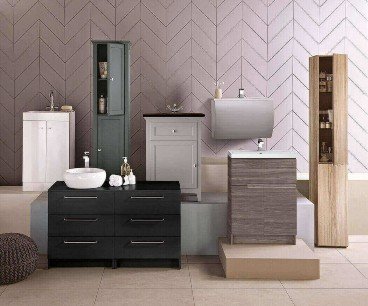 Open shelves are a great way to visually open up a small space, whilst also providing lots of storage. You can really get creative here and make stylish features out of your towels and beauty products!
bathstore's space-saving vanity units are an ideal solution for small bathrooms, providing plenty of storage for linens, soaps, cosmetics or shower gels.
Specially designed with a short projection, our Portfolio furniture provides ample storage without intruding on the space, so you can make the most of your bathroom. By storing everything away you can minimise clutter on window sills and countertops, creating a clean and streamlined room.
By following these simple tips, you can transform your small space into a practical and clutter-free bathroom. You'll impress your guests with a neat and tidy bathroom, whilst reaping the benefits of a smart and practical space where everything has its place.