What does your loo say about you? As it turns out, quite a lot! It might be the smallest room in the house, but your cloakroom bathroom (or downstairs toilet) is probably seen by more of your guests than your main WC.
In the UK, cloakroom bathrooms usually occupy a small space, such as under the staircase, so the room tends to be a little on the small side. But that's a good thing. Small rooms are great fun to design and decorate whilst ensuring you use every inch available. You can really unleash your creativity.
If you're remodelling or redecorating your cloakroom bathroom, we've got everything you need to know about the process right here.
Choose small, smart fittings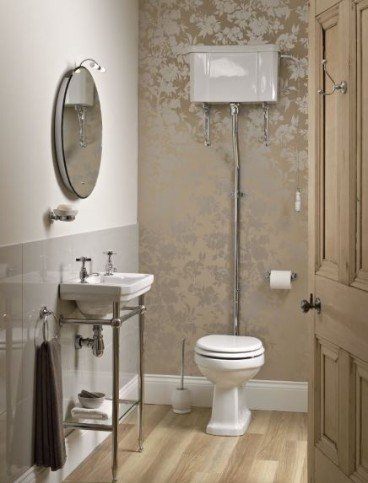 As with any bathroom that's a little on the small side, it's important to make sure you choose sanitaryware and furniture that is proportionate to the space.
Cloakroom basins are innovatively designed to be small and compact whilst still providing plenty of internal space for washing hands. Our cloakroom basins come in a range of styles and shapes.
We've said it before (and we'll say it again): wall-hung fittings really are the way to go in a small room. Not only are they space-saving, but they can really help to make the room look and feel larger.
A wall-hung toilet does away with the cistern and instead sits flush (excuse the pun!) to the wall. Not only does this mean the toilet doesn't feel like it's protruding into the room, but the absence of the base frees up large areas of the floor, visibly creating space.
A similar effect is seen with wall-hung basins: without a pedestal, you're able to see more of the floor space, which increases the available footprint of the room.
Get clever with your storage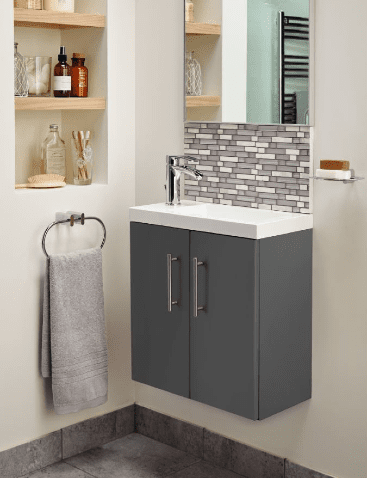 If this mini bathroom also doubles as a cloakroom, you're going to need some seriously savvy storage to keep it looking neat and tidy.
As space in this room tends to be at a premium, it might be an idea not to store all your coats in here, just the ones you use most regularly. After all, you don't want your guests to feel like they're swamped in coats and surrounded by shoes whenever they take a trip to the loo!
Space-saving furniture is key here. Slimline or corner units will help maximise tricky spots of the room, and provide ample storage for all the usual bathroom items, such as spare soap, toilet rolls, towels and cleaning products.
Our buyer's guide to bathroom furniture includes plenty of tips about how to choose the right products for a cloakroom!
Choose smart accessories
Alternatively, you can replace your standard radiator with a small heated towel rail. A shiny chrome radiator makes an elegant addition and your guests will really appreciate drying their hands on a warm, fluffy towel! It's also worth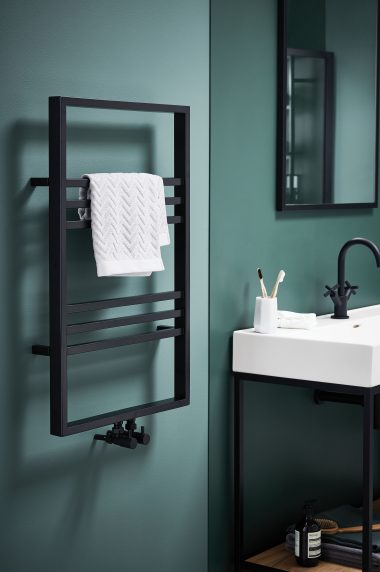 considering accessories such as towel rings and rails, which are a neat and compact choice for hanging hand towels. However, if you don't have the wall space to accommodate either, then a basin towel rail might be the perfect alternative. This fixes neatly to the bottom of your basin, so your towel can hang directly beneath the basin, taking up minimal space in the room.
Be adventurous (or not) with your décor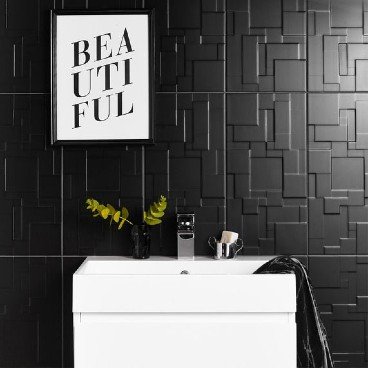 A small cloakroom bathroom is perfect for trying out adventurous decorating ideas that you might not be ready to attempt in larger rooms: if you don't like it, there's less wall space to paint and furniture to switch out to make things right. You can let your inner interior designer run wild, creating a space that will leave a lasting impression on your guests!
You can experiment with the use of bold colours or exciting patterns in your décor, and make a real feature of your bathroom. Tiles are a great way to invite colour into the room, especially if you use mosaics or ornate patterned tiles. What's more, they're clean, practical and extremely durable.
Reflective tiles are an excellent choice if you're looking to create more drama or a room with a boutique-style aesthetic. You could even create a feature wall using reflective tiles, which will bring a real sense of luxury to the space.
Alternatively, try neutral colours such as creams and light pastels to make the room look and feel more spacious. Using a variety of textures and patterns can add a touch of panache, if you want creativity without opting for bold colours.
Your cloakroom bathroom is likely to get more visitors than your house bathroom, so you can really say something with your design ideas. Small spaces can be great to revamp, as you need to be savvy with the available area.
As we always say, don't let limited space limit your design. Whether you're creating a bold statement room, or a basic and practical space, there are plenty of ways to redesign your cloakroom bathroom.