As one of the most essential ingredients of any home heating system, it's important to know a little about how your radiators work. In particular, the crucial component that makes them tick – your radiator valves. Far from being complicated and confusing, these pieces are useful and easily replaceable, if you understand which ones you need. From manual to thermostatic, we're here to explain everything you need to know about radiator valves in this handy guide.
What is a radiator valve?
Valves are first and foremost, designed to control the temperature of your radiator. How? Simple – by adjusting the amount of pressurised water allowed into your radiator at one end, and monitoring the amount of heat leaving at the other end. When working properly, the whole system should be perfectly balanced – which is exactly why radiator valves always come in pairs.
Why doesn't my radiator come with valves?
Much like your radiator itself, valves are designed to be tailored to your taste and style – so getting them separately gives you the chance to match your décor. More importantly, pipework can vary dramatically from bathroom to bathroom, so it's best to sync up your valves with the right pipe angles and radiator separately.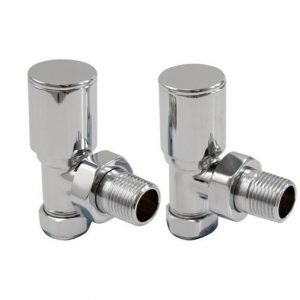 Types of Radiator Valves
Radiator valves typically come in three types: manual, thermostatic and lockshield. Depending on the décor you want to match, Bathstore's radiator valves are all available in a wide range of design styles and shades too, from anthracite to chrome and everything in-between.
Manual radiator valves
The simplest type there is, manual radiator valves are often compared to a bathroom tap, just twist the top to make the radiator hotter or cooler as required. Thanks to the lack of complicated mechanisms inside, manual valves are often smaller than the rest – so are an excellent pick for matching with a minimalist radiator or room design.
Thermostatic radiator valves
Often shortened to TRV's, Thermostatic Radiator Valves are a clever bit of kit that can make all the difference to keeping your rooms at the perfect temperature. They come with a sensor inside, which can sometimes be electronic, but most commonly a small piece of wax or heat sensitive liquid. When your radiator hits the desired temperature, this sensor expands to block the flow of hot water going through the valves, keeping the heat just right.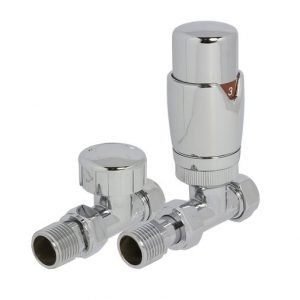 Lockshield radiator valves
 No matter whether you choose manual or thermostatic radiator valves, the other half of your pair will always be a lockshield valve. As an essential safety festure, these work exclusively to keep your radiator balanced by controlling the flow and pressure of water passing though it. They're particularly useful for vertical radiators, as more pressure is needed to pump water up and down.
Types of Radiator Valve Shapes
As we've already covered, your radiator valves need to match your pipework– whether they're coming out the floor or angled in the walls. Thankfully, there are four types of valve shapes to choose from, designed to suit any pipe.
Straight radiator valves
Designed for pipes that come upwards from the floor into your radiator, straight valves join the two directly, allowing you to make the most of a wall-fastened radiator for extra décor freedom.
Angled radiator valves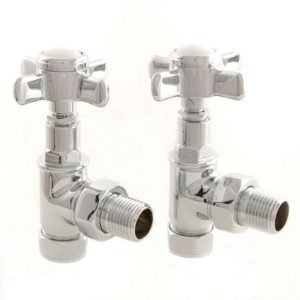 Perhaps the most common shape, angled valves connect at a right angle to your radiator, meaning they can be tucked away behind the radiator for a neat all-in-one look. For the best results, choose a radiator close to your boiler or heating unit.
Corner radiator valves
Also called flat front valves, corner valves face inwards towards the wall rather than out like on most radiators. They're usually a decorative choice as an added talking point for your home, just watch your shins when you walk past!
H block radiator valves
Space saving and stylish, H block valves connect directly below your radiator to save you room on both sides. This will also mean that the water flows through your radiator from the middle, making installation a breeze too, whether you've got manual or thermostatic valves.
Choosing Valves for a Towel Radiator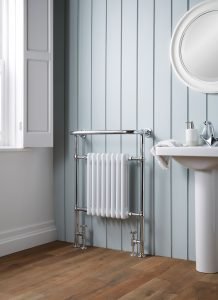 Want to adjust the valves on your new towel rail or radiator too? The choice of manual or thermostatic valves are the same – but your radiator valves will typically only come in two shapes: straight or angled.