Do you dream of a life where you can step out of the tub and not land in the toilet? Where legs no longer bear bruises of collisions with the bath panel?
This is in fact the harsh reality for people with small bathrooms around the world.
1. Where on Earth do you keep the spare loo roll?
There's barely enough space to display the toilet roll in use, so trying to find room to store the spares is a near impossible task. You face the unsightly choice of creating a toilet roll tower on top of the flush or cramming the spares in to a cabinet – giving visitors a valid excuse to go rummaging through your private products. Big decisions.
In need of some savvy storage solutions? Take a look at our range to see if these can keep your small bathroom neat and tidy!
2. Two's a crowd
There's just enough space to squeeze in yourself, so allowing another person to join you in the bathroom is out of the question. Each morning you'll begin the battle of the bathroom – who will get in there first? And wave goodbye to dreams of a romantic night for two in the tub: while one has their head awkwardly arranged between the hot and cold taps, the other is avoiding any nasty situation with toes and plug holes.
Struggling with floor space? Browse our space-saving toilets and basins to find a perfect solution.
3. Too hot to blow dry
It may well be the smallest room in the house, but it can often become the hottest; in fact, blow-drying your hair after a steamy shower will most likely lead to red cheeks and heat rash. If you have the luxury of a bathroom window, crack it open and bring in a glass of water for the next ten minutes of Caribbean temperatures.
4. Step out of the tub and into the toilet
Trying to manoeuvre your way around a small bathroom is tricky, especially with the added slip possibilities created by splashing. You step out of the shower and practically land in the basin trying to avoid all contact with the toilet. But the bonus is, your towel is never hard to reach!
5. Make-up mania
Trying to apply your make-up in cramped conditions can cause mania in the morning. Move too quickly backwards and you'll bruise on the bathtub; by the time you've finished the application, the majority of foundation has practically run off your face due to the franticness of the whole process. Be prepared to embrace the 'less is more' look.
6. Mirror, mirror, on every wall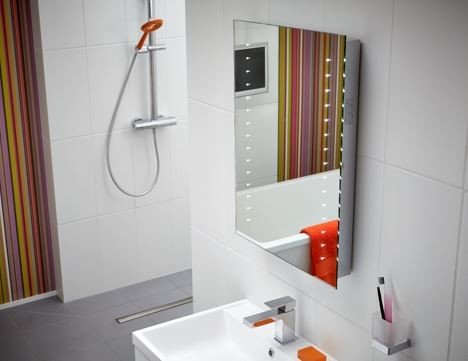 You're doing your best to create the illusion of space, but opening the blinds to bring the outdoors indoors leaves you in full view of the neighbour's startled face! You may find yourself putting up a mirror on every available wall in the bathroom to aid the situation, but vanity rumours keep spreading! Try investing in a bathroom cabinet with a mirrored front – this allows for storage, too.
7. It's all white
Colour can seem a distant memory for people with small bathrooms. It's easy to feel like you have no choice but to decorate the whole bathroom white… or neutral if you're feeling particularly daring.Lighter colours give the illusion of space but don't rule out colour altogether. Try painting a feature wall or tiling just one row or column in a complimenting brighter colour.
8. Collisions with ceiling lights
How many black eyes have you had? No matter how long the light has been installed for, somehow every morning your brain fails to remember the low hung fixture sat in exactly the same place it was yesterday. Adding stylish light fixtures to the ceiling will draw the eye upwards but depending on height, you could be in for a bumpy ride.
Effective ceiling, wall and cabinet lighting can make a big difference in a small bathroom – take a look at our wide range of lighting options.
If you've faced the eight small bathroom struggles for longer than you can bear to think about, take on board our top tips and put an end to your small bathroom woes. Stay strong!