Bath time with the kids can be a really fun part of your day, even if the main purpose is to give your toddlers a swift clean before tucking them into bed! However, bathing little ones can often be a bit of a challenge, particularly if your toddler is resistant to getting in the tub.
We're already big fans of rubber ducks in the tub, but there are so many other ways to jazz up bath time for your kids. From colourful bath paints to a good old-fashioned sing-song, we've created this list of our favourite suggestions for making bath time more fun!
1. Story time
Diving into a good book with your toddler doesn't have to be saved for bedtime. Reading to your son or daughter while they enjoy a swim in the tub is the perfect time for you to enjoy a story together. You can pick up a wide range of waterproof storybooks, specially designed for reading in the tub (so you don't need to worry about getting the pages wet).
Or, why not use your imagination and make up a story together? You don't need to pen a story every day; you can just make it up as you go, introducing fun and crazy characters along the way.
2. Splish-splash, taking a bath
Give your toddler containers of different sizes to play with in the tub – they'll love filling them with water and pouring it out again. You can even make it into a 'let's pretend' game with different containers, such as plastic cups, and have a pretend tea party – the bubbles help to make a great imaginary cappuccino!
This tactic can also come in handy for washing your toddler's hair, which is usually what causes tears in the bath. While your little one is busy splashing around in the water, you can surreptitiously wash their hair, using a container to rinse away the shampoo!
3. Bath time art
There are loads of fun and funky bath accessories that you can use to make bath time more colourful. Bath paints are perfect for releasing your child's more creative side as they can use them to draw colourful pictures on the bath and the walls while they're in the tub.
Don't worry, these specially-formulated paints easily wash away with warm soapy water, so your toddler's luminous creations won't become a permanent fixture in your bathroom! You can even use coloured bath salts, which transform the colour of the water and are great for sensory play since they stimulate your toddler's senses through the science of colour theory.
4. Animal wash cloths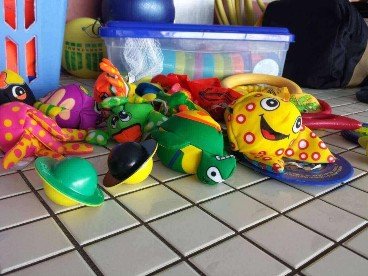 Fun wash cloths are great for both entertaining your toddler as well as getting them clean behind the ears! Wash cloth animals are great toys for them to play with in the tub and you can turn them into characters to really bring your bath time stories to life.
What's more, you can use the wash cloths to give your child a wash as you play together. This is a quick and effective way to get them washed and ready for bed without the tears and tantrums, if you don't have time for a story or playtime.
5. Have a sing-along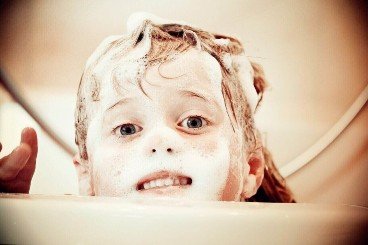 Regardless of whether or not you've got a good singing voice, bath time is perfect for a sing-along with your little one. Simple songs with hand actions like waving and clapping are always fun to do and will be more entertaining for your toddler while they soak in the tub.
You can break out your best rendition of 'The Wheels on the Bus' or 'Itsy Bitsy Spider' or, if you've perfected 'Let it Go' from Disney's Frozen, then there's no better place for a sing-along performance!
For the ultimate bathroom live performance, why not make use of the latest technology in bathroom fittings? If you want your child's favourite songs to accompany your bath time, pair up your mobile with a Bluetooth enabled LED illuminated mirror.  This means you can enjoy your bath playlist and give the "bathformance" of a lifetime without worrying about wires and water!
6. Use fun bubble bath mixtures
Unlike adults, toddlers don't need to soak away the stresses of the day with a relaxing lavender bath. Ditch the sensible soaps and pick some fun foamy bubble bath that they will love.
There is a wide selection of kids' bubble baths available, with extra-foamy ones doing wonders to transform the routine evening wash into a fun playtime. Colourful bubble bath can make a wash in the bath feel like playing in a rainbow, and you can even get colour-changing soap, which will certainly make getting washed a lot more fun for your children.
7. Get organised
One of the key factors of taking the hassle out of bath time is being prepared. Before you run the water, have your toys and games in mind and bring storybooks or other accessories into the bathroom. Get a clean nappy, towel and PJs at the ready too. This means that the water (and your toddler) won't get cold as you get everything ready.
8. Be equipped
Adding grab rails to the bath can help your toddler to get in and out of the bath with ease. A handy rail gives your little one something to hold onto as they climb into the tub and pull themselves out, without worrying about slipping or losing balance.
Baths that retain heat for longer are ideal for the family bathroom, so you don't need to worry about the water going cold during bath time. You might also like to check that the bathroom itself is warm enough for your toddler to be comfortable, as some children can be sensitive to temperature.
Bringing a little bit of play to bath time will keep the tears and tantrums at bay, making this an enjoyable activity for both of you, rather than a dreaded chore. With these tips, your toddler will be so busy having fun that they won't even notice they're getting washed!